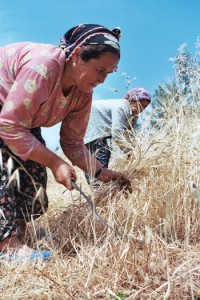 Reuters | January 26, 2009
Ankara: Turkey can attract up to $9 billion funds from Gulf Arab funds, mainly in food and agriculture, the head of the Turkish Investment Support and Promotion Agency said on Monday.
"We are working on a big project for the southeastern Anatolia region and we are about to present our first big project proposal," Alpaslan Korkmaz told Reuters in an interview.
"Gulf Arab investment in Turkey can go up to as much as $9 billion with the leverage effect," he said.
He did not specify a timeframe for the investments.
A Gulf investment fund made up of Abu Dhabi Investment House, Gulf Finance House, and Ithmaar Bank signed in October a $6 billion a memorandum of understanding for agriculture investments in Turkey.
In the first 11 months of last year foreign direct investment from Gulf countries rose to $1.7 bln from $302 million in the same period a year earlier, according to Treasury data.
"Everyone is going to the Gulf and Gulf investors are now looking for real economy investments. Past financial sector investment instruments are not trusted and I am sure Turkey will benefit from this momentum," Korkmaz said.
Real estate, business centres and renewable energy are the likely investment fields in 2009, he said.
Europe-based Akuo Energy has allocated 1 billion euros ($1.3 billion) fresh funds for renewable energy investments in Turkey, Korkmaz said. The company's wind producer unit Perfect Wind said last year it would invest 210 million euros in Turkey for a 150 megawatt wind power station.
Korkmaz said he saw Turkey closing 2008 with $17.5 billion FDI, which is above the government's previous $15 billion prediction.
FDI in 2007 reached a record $22 billion but the global financial crisis and acute political uncertainties trimmed investment into Turkey last year.
Korkmaz said he was not over-pessimistic for 2009, but declined to give his prediction for the year.
"It is very likely that total foreign investments in the world will fall between 30-50 percent in 2009. We need to be ready for this, but I think Turkey will stay above the world trend," he said.
He said he expected renewed foreign investor interest in Turkish road and highway privatisation deals starting in April after Turkish privatisation deals stalled due to lack of interst from foreign and domestic investors.
---