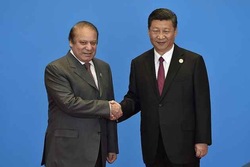 16 May 2017 | Outlook Magazine
Secret China-Pakistan Economic Corridor document reveals Beijing is the new East India Company
Pakistani English-language daily
Dawn
has acquired exclusive access to the original documents of the China-Pakistan Economic Corridor (CPEC) that show Prime Minister Nawaz Sharif's top agenda was finalising the long-term plan for the $46-billion project when he travelled to Beijing over the weekend to participate in the Belt and Road Forum.
The master plan, kept secret even from Pakistan's provincial governments, reveals an expansive project involving Chinese penetration into Pakistan's agriculture, industry, telecommunications, surveillance and intelligence networks and even leisure and popular culture.
The One Belt One Road project (OBOR), initiated by China's President Xi Jinping in 2013, seeks to connect Asia, Europe, Middle East and Africa, through a land route as well as a maritime silk road. OBOR is not a single project but one with several different connecting corridors such as the CPEC

The CPEC has, so far, been considered a road, rail and infrastructure link that connects China's remote northwestern Xinjiang province with Pakistan's Gwadar port on the Arabian Sea.

The plan lays out in detail what Chinese intentions and priorities are in Pakistan for the next decade and a half, details that have not been discussed in public thus far.

"Thousands of acres of agricultural land will be leased out to Chinese enterprises to set up demonstration projects in areas ranging from seed varieties to irrigation technology, with 24 hour video recordings on roads and busy marketplaces for law and order," says Dawn.
"A national fibreoptic backbone will be built for the country not only for internet traffic, but also terrestrial distribution of broadcast TV, which will cooperate with Chinese media in the 'dissemination of Chinese culture'," it added.

The newspaper also reported the plan envisages a deep and broad-based penetration of most sectors of Pakistan's economy and society by Chinese enterprises and culture.

Its scope has no precedent in Pakistan's history, in terms of how far it opens up Pakistan's economy to participation by foreign enterprises.

One of the most intriguing chapters in the plan speaks of a long belt of coastal enjoyment industry that includes yacht wharfs, cruise homeports, nightlife, city parks, public squares, theaters, golf courses and spas, hot spring hotels and water sports, the daily reveals, attributing the leaked papers.

According to the daily, the Pakistan government has two versions of the long term plan. It is 231-pages long and has been drawn up by the China Development Bank (CDB) and the National Development Reform Commission (NDRC).

Highlights of the plan

Agriculture:

Provisioning for seeds and other inputs, like fertiliser, credit, and pesticides.

Chinese enterprises to operate their own farms, processing facilities for fruits and vegetables and grain.

Logistics companies will operate a large storage and transportation system for agrarian produce.
Identify opportunities for entry of Chinese enterprises in myriad dysfunctions that afflict Pakistan's agriculture sector.

Enterprises entering agriculture will be offered extraordinary levels of assistance by Beijing.

The plan also offers to maintain a mechanism to help Chinese agricultural enterprises contact representatives of the Governments of Pakistan and China.

China will actively strive to utilise national special funds as the discount interest for the loans of agricultural foreign investment.

For the long term, financial risk will be spread out through new types of financing such as consortium loans, joint private equity and joint debt issuance, raise funds via multiple channels and decentralise financing risks.

To harness the work of the Xinjiang Production and Construction Corps to bring mechanization as well as scientific technique in livestock breeding, development of hybrid varieties and precision irrigation to Pakistan.
To help develop Kashgar Prefecture, which suffers from a poverty incidence of 50%, and has no connect to larger markets. The prefecture's total output in agriculture, forestry, animal husbandry and fishery amounted to just over $5 billion in 2012, and its population was less than four million in 2010, hardly a market with windfall gains for Pakistan.

Engagement in Pakistan's domestic market:

Identifies 10 key areas for engagement along with 17 specific projects, including construction of one NPK fertiliser plant with an annual output of 800,000 tons.

Enterprises will be inducted to lease farm implements, like tractors, efficient plant protection machinery, efficient energy saving pump equipment, precision fertilisation drip irrigation equipment and planting and harvesting machinery.

The plan shows great interest in the textiles industry and is particularly focused on yarn and coarse cloth.

Meat processing plants in Sukkur are planned with annual output of 200,000 tons per year, and two demonstration plants processing 200,000 tons of milk per year.
Transport and storage highlights:

To build a nation-wide logistics network and enlarge the warehousing and distribution network between major cities of Pakistan with a focus on grains, vegetables and fruits.

Storage bases will be built first in Islamabad and Gwadar in the first phase, then Karachi, Lahore and another in Gwadar in the second phase.

Between 2026-2030, Karachi, Lahore and Peshawar will each see another storage base.

Asadabad, Islamabad, Lahore and Gwadar will see a vegetable processing plant, with annual output of 20,000 tons, fruit juice and jam plant of 10,000 tons and grain processing of one million tons.

Tourism and recreation:

A long belt of coastal enjoyment industry from Keti Bunder to Jiwani, the last habitation before the Iranian border.

Reacting to the leak, Pakistan's planning and development minister Ahsan Iqbal Chaudhry tweeted: "I am appalled by Dawn Leak II. CPEC Long Term Plan story based on working docs 2 distort final draft taken up with NDRC yesterday in Beijing."
Slamming the report, Chaudhry said: "CDB study referred to as Long Term Plan in Dawn story is factually incorrect. Definite angling in story to malign CPEC by promoting fears."

In response, former Dawn editor Abbas Nasir tweeted: "Instead of lashing out at Dawn @betterpakistan should have made public the latest docs if diff from Dawn story. But transparency and PMLN?."

He invited the minister to set the record straight if there were any discrepancy between the" actual' report and the one published by the newspaper.