The West Australian| 1 May 2017
China's agribusiness investment in Australia triples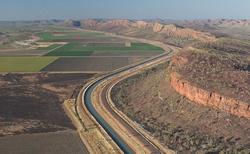 China's investment in Australian agribusiness has tripled in just a year as China strives to meet rising demand for high-quality food among its growing middle class.
In 2016, Chinese companies invested $1.2 billion in Australian agribusiness - three times 2015's investment of $375 million - says a report form financial services provider KPMG and the University of Sydney.
The report, Demystifying Chinese Investment in Australia, says the investment was concentrated in the dairy, meat, seafood and wine sectors.
"Chinese investment in Australia's agribusiness sector was driven by the rapidly rising demand for premium quality food as China's middle-class population continues to expand," KPMG Australia's head of Asia and International Markets, Doug Ferguson, said on Monday.
The increase in Chinese investment also reflected the greater competitiveness of Australian produce in China following the China Australia Free Trade Agreement, he said.
Major agribusiness deals included the joint-venture acquisition of the S Kidman & Co cattle empire by Hancock Prospecting and Shanghai CRED Real Estate, Moon Lake's acquisition of Tasmanian dairy giant Van Dieman's Land, and Inner Mongolia Fuyuan Farming's acquisition of a 79 per cent stake in dairy processor Burra Foods.
The KPMG and Sydney University report showed that from 2015 to 2016 Chinese investment in Australia across all sectors rose by 11.7 per cent to $15.36 billion.
Commercial real estate attracted the greatest investment - $5.6 billion or 36 per cent - followed by large-scale infrastructure, at $4.3 billion or 28 per cent.
Fifty-one per cent of the investment in commercial real estate went into residential development projects - up from 27 per cent in 2015.
NSW attracted the most investment, with 53 per cent, on the back of commercial real estate.
Victoria attracted 25 per cent, and the remaining states each attracted less than 10 per cent.
Australia has received a total of $US90 billion ($A120.3 billion) in investment from China since 2007, second behind the United States with more than $US100 billion ($A133.6 billion).
But Chinese investment in the US, the European Union and Brazil in 2016 grew a lot faster.