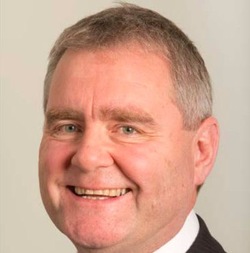 Neil Woods, manager of the New Zealand Superannuation Fund
NBR | 2 May 2017
NZ Super Fund eyes Aussie rural land and diversification away from dairy
The New Zealand Superannuation Fund, which has bought up 21 local dairy farms as part of its push into rural land investment, is looking outside the dairy sector for its next foray, eyeing land used for beef and permanent crops and expansion into Australia.
The sovereign wealth fund had just 1 percent of its $34.09 billion fund invested in rural farmland as at March 31, short of its 3 percent goal, half of which is earmarked for local investment and the rest overseas. According to its 2016 annual report, the $204 million rural portfolio was exclusively invested in local dairy farms although the fund suggested that is about to change with other types of rural land now on the radar.
"We are interested in more agricultural investments, not only in New Zealand, but also offshore," Neil Woods, the fund's manager in charge of agriculture and timber investments, told BusinessDesk. "We have got nothing offshore at the moment but we are actually focusing quite a lot of effort on offshore and it's unlikely to be dairy offshore because we do it so well at home."
Woods said the fund had acquired dairy land because opportunities for investment had arisen, but he was now eyeing other sectors to get more diversity. He singled out rural land used for beef cattle or permanent crops such as vineyards, pipfruit and stonefruit as the most likely areas for future investment.
The fund is in talks with industry players to see if there are opportunities for it to invest in permanent crops, which could see it buy an existing operation or involve greenfields development where it buys and develops an orchard, he said.
It's also considering investment in beef cattle farms, which could probably be added to its dairy farm portfolio managed by FarmRight.
Woods said the fund is among the pioneers investing in agriculture directly, but as a corporate farmer it needs larger scale investments of around $50 million to justify setting up a specialist manager in a sector.
The fund is currently looking at investment opportunities in Australia for beef and permanent crops, which may eventuate towards the end of the year, he said.
Australia has been targeted because it has larger scale agricultural developments in some sectors as well as good land title systems, laws, biosecurity systems, and free and open borders enabling international prices for products, he said. North America is also on the fund's radar, he said.
"We are tending to look for safer geographies from a political-legal framework perspective as our next step outside of New Zealand," Woods said. "It's really that risk return trade off. Australia provides quite a bit of interest for us at the moment. We are doing a lot of work there trying to identify opportunities, and possibly North America would be the next step."
Woods said the fund has held some of its dairy farms under consistent management for six seasons, and it may look to sell some.
"We are in a position now where we are able to evaluate whether we have done what we can with them and we should churn some out," he said. "Whilst we think the future expected returns will continue to deliver what we need off a particular property we will continue to hold it. If the market is offering prices that mean we are better off putting that capital to work somewhere else, then we will take that opportunity to recycle."
While he's feeling more upbeat about the dairy outlook this year, Woods said with no debt the fund wasn't hurt by volatility the same way as other farmers.
For its dairy farms, the fund favours a simple, low-cost structure and assumes a farmgate milk price around $6 per kilogram of milk solids, he said.
The Super Fund was set up in 2001 to help meet the country's future pension needs. Its acquisition of rural land is driven by a desire to diversify its investments and to benefit from increased demand for meat and proteins as Asian countries become wealthier and favour a more western diet.
"We are very positive about the long-term part of the ag sector and we are actively looking," Woods said. "We are making steady progress I think in terms of getting comfortable with further investment opportunities."