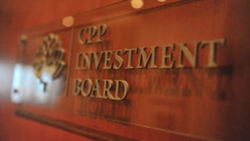 Canada Pension Plan Investment Board has decided against making further investments in farmland and is open to selling its existing portfolio, a shift in strategy after some local farmers voiced concerns.
Reuters | 26 April 2017
CPPIB plans farmland retreat
Canada Pension Plan Investment Board (CPPIB) has decided against making further investments in farmland and is open to selling its existing portfolio after reviewing the operations, people familiar with the matter told Reuters this week, a shift in strategy after some local farmers voiced concerns.
CPPIB began buying farmland in North America in 2012 and has since purchased about 120,000 acres in the United States and a similar amount in Canada. The country's biggest public pension fund purchased 115,000 acres of Saskatchewan farmland from Assiniboia Farmland LP in 2013 for $128 million (US$95 million) and had intended to invest another $500 million in Canadian farmland over a five-year period.
However, its plans met with a backlash from some local farmers who believed they would be squeezed out of buying land themselves and feared rising rents if the CPPIB pursued its mandate to maximize returns for Canada's pensioners.
Those concerns eventually prompted the Saskatchewan government to ban some institutional investors from buying farmland in the province, whose plains usually grow more wheat than Argentina, thwarting CPPIB's plans for expansion.
CPPIB, a late entrant to farmland business, declined to comment specifically on the changes, but the fund's global head of public affairs, Michel Leduc, said:
"We assess performance of each investment program with that in mind as well as fit within our total portfolio approach, contribution to diversification and desired return-risk profile."
CPPIB, which had $298 billion (US$219.62 billion) under management at the end of 2016, oversees the national pension fund on behalf of 20 million Canadians.
The fund's move stands to be good news for some farmers and not so good for others. Those who want to expand the size of their farms are winners because they have one less tough bidder to compete against, but those hoping to sell the farm and retire may find fewer buyers.
Although CPPIB continued to buy farmland in the United States, plans to purchase farmland in Australia, New Zealand and Brazil also failed to materialize. Frustrated by the fund's lack of progress, CPPIB Chief Executive Mark Machin recently ordered a review of the business led by its global head of real estate investments, Graham Eadie, the people told Reuters.
The sources spoke on condition of anonymity because the matter is confidential.
Eadie's review concluded the business was not sufficiently scalable to justify further investment. As a result, CPPIB has decided not to acquire more farmland and is open to selling what it already has, the sources added.
It is not clear whether the fund is actively seeking buyers.
CPPIB's decision comes as some large pension funds continue to look for opportunities in the sector. Wealth funds of Gulf Arab states have been buying farmland in developing nations to ensure food security. Recently, some of the Australian pension funds have started buying farmland after staying away as the local farms were often too small in value to be of interest to the A$2 trillion (US$1.51 trillion) pension fund industry.
Global farmland investors range from pension plans like CPPIB to firms including Canada's Bonnefield Financial and U.S. real estate investment trust Farmland Partners.
The CPPIB has decided instead to focus on the processing, delivery and storage of agricultural products following last year's acquisition of a 40 percent stake in Glencore Plc's agricultural business for US$2.5 billion.
As part of the changes, the fund has parted company with Angus Selby, who was based in London and had led the bank's global investment strategy for agriculture and farmland for five years, the people added. The fund's agriculture trading group was also laid off at the end of last year, one of the people said. Selby was not available for comment and CPPIB declined to comment.
By John Tilak and Matt Scuffham