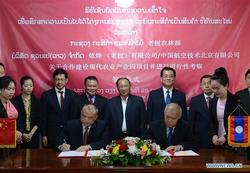 Representatives from Lao Ministry of Agriculture and Forestry (R, front) and China's Xuanye (Laos) Co., Ltd/AVIC International Beijing Co., Ltd (L, front) sign a memorandum of understanding in Vientiane, Laos, April 25, 2017. The Lao Ministry of Agriculture and Forestry has signed a memorandum of understanding with China's Xuanye (Laos) Co., Ltd/AVIC International Beijing Co., Ltd on a modern agricultural industrial park project in Laos. Photo: Xinhua/Liu Ailun
Xinhua | 26 April 2017
Chinese company to build modern agricultural industrial park in Laos
Lao Ministry of Agriculture and Forestry has signed a Memorandum of Understanding with China's Xuanye (Lao) Co., Ltd/AVIC International Beijing Co., Ltd on a modern agricultural industrial park project in Laos.
The agricultural industrial park will serve as a supporting project to the under-constructi
on China-Laos railway, building a regional center of agricultural products trading, wareho
using and logistics hub platform.
Speaking at the signing ceremony on Tuesday, Lao Minister of Agriculture and Forestry Lien Thikeo said since the launching of the Chinese-proposed Belt and Road Initiative, many Chinese enterprises have come to invest in Laos with constructive proposals, providing new impetus a
nd direction of development to Laos to turn the country from a land-locked to a land-linked country.
The ministry is expected to cooperate with Xuanye to build a demonstration of modern agricultural industrial park in Laos, with the construction of the China-Laos railway to deepen bilateral trade cooperation and accelerate the transformation of Lao agricultural sector.
Previously, local government of Lao central Savannakhet province signed an agreement with Xuanye on a 2,000-hectare plantation demonstration.
After over two years, the demonstrative plantation zone is helping export Lao rice to China, and through the implementation of Chinese standards and technology, the farmers are changing the habit of slash-and-burn cultivation with low yield while maintaining the "green and organic" characteristics of Lao rice.
Chairman of Xuanye (Lao) Co., Ltd Xu Guowu said that the Belt and Road Initiative has refreshed the China-Laos cooperation with a new international cooperation platform, helping many developing and under-developed countries to enter the "fast lane" of development.
Both sides will conduct research later mainly on China's agricultural technology and its market demand for Laos' organic eco-agricultural products, technology innovation cooperation in Laos.