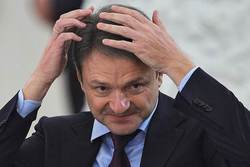 Agrocomplex, a company belonging to the immediate relatives of Russia's Minister of Agriculture Aleksander Tkachev (above) acquired 184,000 ha of land in 2016, increasing its Russian land holdings to 640,000 ha (Photo: Kommersant)
Crime Russia | 24 April 2017
Agrocomplex of Minister Tkachev's family became largest land tenure in Russia
Agrocomplex named after Tkachev belonging to immediate relatives of Minister of Agriculture Aleksander Tkachev in 2016 got 184 thousand hectares of land, increasing his possession to 640 thousand hectares. Now, the company holds the fourth place among the largest land owners of Russia, it is told in the review of the auditor and consulting company BEFL.

Due to large acquisitions of last year Agrocomplex has risen by two positions - it is said in the review. It is noted that in 2015 the fourth place was taken by Ivolga-holding, which fell by the sixth position (489 thousand hectares located in the Orenburg, Chelyabinsk and Ulyanovsk Regions) now. The fifth place with 505 thousand hectares was taken by the Ak Bars holding company.
There were also small shifts in top three. The Prodimeks group of Igor Hudokormov together with the Agrokultura company (790 thousand hectares) is still at the first place. While the third and second place shifted - Vadim Moshkovich's Rusagro, increasing possession to 670 thousand hectares, went up to the second line, and Victor and Aleksander Linnikov's Miratorg took the third position with result of 644 thousand hectares.
Step agroholding belonging to AFK Sistema, which expanded by over 200 thousand hectares in a year became the leader in a gain of land bank. Agrocomplex connected with the Minister of Agriculture took the honourable second place on a gain of land tenure.
The company carried out its last large deal in February, getting 100% of assets of the Parus Agro Group company, Kommersant with reference to Rosstat and SPARK-Interfax reported. With acquisition of Parus Agro Group the land bank of Agrocomplex increased by 102 thousand hectares.