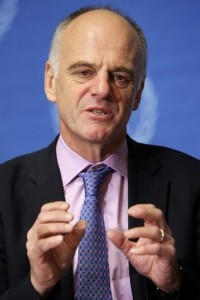 The National | 21 January 2009
James Reinl, UN Correspondent
NEW YORK // UN officials are urging the UAE and other Gulf countries to pay for farming improvements and strike "fair trade" deals with developing world farmers.
Gulf governments, entrepreneurs and sovereign wealth funds have spent vast sums buying or leasing farmland across Asia and Africa to try to secure cheaper imports and keep supermarket prices low.
The UN hopes to persuade ministers from the Emirates and other GCC states to dig deep at the Food Security for All meeting in Madrid this month.
"We are concerned to make sure that smallholder farmers are able to produce as much food as they can from their land, can market it and can get a good price for it," said David Nabarro, an assistant UN secretary general responsible for the food crisis.
Last month's discussions between officials from Qatar and the Philippines about leasing at least 100,000 hectares of farmland are the latest example of an emerging Gulf trend.
"Between March and August 2008, individual GCC countries or industrial consortia leased under contract millions of hectares of farmland, and harvests are expected to start as soon as 2009," said a recent report from Grain, a Spain-based agricultural rights group.
Sudan, Pakistan and other "sister Islamic countries" have been the most solicited for land, followed by nations such as Indonesia, Burma, Cambodia, Turkey, Kazakhstan, Uganda and Brazil, researchers said.
Global food price rises saw Gulf import bills swell from US$8billion (Dh29.4bn) to $20bn between 2003 and last year, spurring officials to "secure deals … by which they supply capital and oil contracts in exchange for guarantees that their corporations will have access to farmland", the report added.
The expected doubling of the GCC population to nearly 60 million from 2000 to 2030, combined with a regional decline in agriculture, means food imports look set to rise.
Food security in the Arab world was among key issues discussed by the World Bank chief, Robert Zoellick, and other officials at this week's Arab Economic Summit in Kuwait.
Mr Zoellick told delegates that "as the largest importers of food, Arab countries are more exposed than others to severe swings in food prices". He called for more co-operation between regional governments and global bodies.
He said projects with Abu Dhabi Food Control Authority and private firms in Dubai and Riyadh – as well as the various Arab, Islamic and regional development funds – were already yielding results.
But Mr Zoellick suggested to Arab officials that "development aid has not been commensurate with the region's ability and past generosity".
Also speaking in Kuwait, Jacques Diouf, the director general of the UN Food and Agriculture Organisation, called for contributions to an annual $30bn fund to buy seeds and fertiliser, and a host of other agricultural improvements in the developing world.
Joint ventures between Gulf states and poor nations would lead to "balanced international relationships for sustainable agricultural development and food security", Mr Diouf said.
The two-day meeting beginning on Jan 26 in the Spanish capital is a follow-up to the UN's food summit in Rome last June and will be co-chaired by the UN secretary general Ban Ki-moon and the prime minister of Spain, José Luis Rodríguez Zapatero.