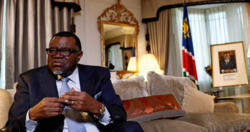 President Hage Geingob of Namibia gestures during an interview with Reuters in central London, Britain December 1, 2016. (Photo: REUTERS/Stefan Wermuth)
Reuters | 22 March 2016
Namibian president calls for land expropriation
Namibia wants to transfer 43 percent, or 15 million hectares of its arable agricultural land, to previously disadvantaged blacks by 2020
WINDHOEK, March 21 (Reuters) - Namibia's president said Tuesday that the government is considering radical land expropriation to spur the transfer of property to the country's black majority.
Speaking at Namibia's 27th independence celebrations, President Hage Geingob said the government should evoke part of the Constitution allowing for land expropriation with fair compensation since the redistribution process has been slow.
"If we are committed to achieving further economic growth and maintaining peace, then everyone should be open to new approaches," said Geingob, Namibia's third president since the country gained independence from apartheid South Africa in 1990.
"This means we need to refer back to our Constitution which allows for the expropriation of land with fair compensation and also look at foreign ownership of land, especially absentee land owners."
Namibia wants to transfer 43 percent, or 15 million hectares of its arable agricultural land, to previously disadvantaged blacks by 2020. By the end of 2015, 27 percent was redistributed, according to the Namibia Agriculture Union.
Geingob is under pressure from factions within his ruling party, the South West Africa People's Organization (SWAPO), to speed up the programme which many say has failed to adequately address the problem and is currently skewed in favour of whites.
Land reform is an emotive issue, also in neighbouring South Africa where President Jacob Zuma last month called for a review of laws to allow expropriation of land without compensation.
Expropriation would mark a radical policy departure for both Namibia and South Africa, shifting from an agreed buyer-seller approach to more provocative alternatives.