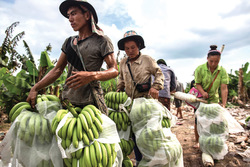 Photo: Southeat Asia Globe
Vientiane Times | 7 March 2017
Chinese investors reconsider plantations as profits prove elusive in banana business
Some Chinese investors plan to shutter their banana farms in Laos and relocate to other countries while others plan to replace the yellow herbaceous fruit with other agricultural crops after sustaining losses.
The northern province of Bokeo has been a major location for banana plantations in recent years.
Technical adviser to Chinese banana farms in Bokeo province, Mr Ruan Shui Jin spoke to Vientiane Times on the occasion of the China Chamber of Commerce Fujian Branch in Laos meeting in the Golden Triangle Special Economic Zone recently.
Mr Ruan said operators were attracted to Laos because it is proximity to China.
Available land in Laos was suitable in terms of size, quality and value for money.
However, many have not been able to turn a suitable profit due to labour supply and related cost issues.

Since operating the banana farm here in 2012, they are still making losses because of high payments for wage labour.

The payments on offer increased from 10,000kip to 40,000 kip per day per labourer and is now currently is as high as 80,000 kip in some places.
Multi-millions in kip was spent to clear land and develop road links to the farms, he said.
He said bananas being produced on such farms were not being sold in Laos.

No bananas from Chinese farms for sale in local markets as the farms send all their fruit to China.

The bananas are packed in cardboard boxes for immediate shipment to China after they are harvested with more than 1.5 million tonnes per year in total.

Naturally, if profitability from banana farming is not going well here, the plan would be to move to Vietnam, Myanmar, Cambodia or the Philippines.

But a first choice would be to change from banana farming into other crops including mango, pomelo and orange.
When asked about problems from chemicals used on banana farms, Mr Ruan Shui Jin said they were for controlling pests.
According to a Bokeo provincial authority report issued recently, Chinese investors have been operating banana farms in the province for more than five years.
In 2015 about 11,000 hectares were under cultivation for bananas. Currently just over 8,000 hectares are under cultivation by 43 companies, mainly in Huayxai and Tonpheung districts.
The area has been reduced because the operations of some banana farms have been suspended with some now growing oranges, pumpkins and mangoes instead.
More than 500 hectares of such land is now using fertiliser made from natural ingredients.
However, Bokeo provincial authorities plan to suspend the operations of 18 companies who have invested in banana plantations after inspections revealed they were not complying with the regulations agreed to.
President of Bokeo's Party-State inspection committee, Mr Chanpheng Keudkong, told Vientiane Times by telephone recently that regulations were being enforced.

The provincial authorities have fined investors who didn't follow the regulations and policy.

The suspensions will come into effect after they have harvested their bananas over the next two years, and in some cases it will be within a single year.
According to the regulations and policy on banana farming investment in Bokeo province, the crop may not be grown in rice fields or close to schools or communities.
Its cultivation is prohibited in areas that are adjacent to the source of waterways, while the use of chemicals is also limited.
Last year, the Prime Minister's Office ordered farms that were preparing to cultivate banana trees to cease work.
Companies that own thousands of hectares of banana plantations where trees have already been planted will not be allowed to plant any more suckers after harvesting the current crop.
The suspension has been ordered because of the use of hazardous chemicals by Chinese companies, which are harming people's health and the environment.
Chinese-run banana farms are not only found in the north of Laos. There are also hundreds of hectares in Vientiane province and on the outskirts of the capital.