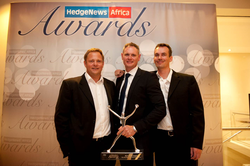 Cape Town-based Polar Star Management Ltd plans to use its own money to buy small farms and processing companies in South Africa this year.
Bloomberg | March 3, 2017
Africa's top hedge fund starts food-focused private-equity
by Colin McClelland
- Polar Star targets agriculture as food demand outstrips supply
- Commodity hedge fund beats peers over five-year period
Polar Star Management Ltd., which runs one of the best-performing African and Middle East hedge fund over the past five years, plans to start a private-equity unit that will invest in agriculture to exploit rising demand for food.
The Cape Town-based firm plans to use its own money to buy small farms and processing companies in South Africa this year, then increase efficiency through consolidation and better management, said Murray Derksen, a director at Polar Star. It aims to raise 1.5 billion rand ($115 million) for the fund, which may also buy commodities such as grains, while targeting an internal rate of return of 8 percent to 12 percent, he said.
"We looked at the increase in corn demand globally, which is about twice South Africa's annual production," said Derksen, who spent a decade financing agriculture at Rand Merchant Bank, a unit of FirstRand Ltd., Africa's largest bank by market value. "That growth will need to access land and infrastructure in Africa."
Polar Star is tapping into United Nations forecasts that Africa's population will increase at the world's fastest rate for more than a decade and that food production south of the Sahara needs to increase by 60 percent to be able to meet demand, according to the Brookings Institution, a Washington-based public policy organization. Corn output in South Africa, the continent's biggest producer of the crop, is forecast to jump 79 percent this season to 13.9 million metric tons after good rains helped ease drought conditions.
Suppressed Prices
The company first found success with its 1.6 billion-rand Polar Star IDS Qualified Investor Hedge Fund, described as a relative-value global commodity fund that follows 60 commodities, which has returned an annualized 23 percent a year over the past five years, according to a fact sheet on its website. That compares with 12 percent for Johannesburg-based Nitrogen Fund Ltd.'s long-short equity hedge fund, while the Bloomberg Commodity Index has declined 40 percent in dollar terms in the five years through January and returned 3.4 percent in rand terms.
High stocks of commodities last year suppressed prices and reduced volatility, offering fewer opportunities to profit from mispricing in the hedge fund, Derksen said. That cut returns to 7.4 percent, the lowest since inception in 2010. The firm charges a 2.34 percent management fee plus 20 percent of profit, he said.
The fund is closed to new investors because it doesn't want to sacrifice results for larger size, Derksen said. The offshore version, the $230 million Polar Star Cayman Island-based fund, may accept $100 million more, Chief Operations Officer Duncan Greenwood said in the same interview.