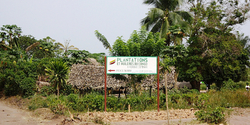 Thomson Reuters Foundation | 28 Feb 2017
Congo plantation firm financed by UK aid accused of breaking promise to help workers
By Chris Arsenault
VANCOUVER (Thomson Reuters Foundation) - One of Africa's largest palm oil companies that is majority-owned by the British government through foreign aid funding has failed to meet a promise to improve housing for its Congolese workers or pay them on time, investigations have revealed.
A Thomson Reuters Foundation expose in 2014 showed how development funds from European taxpayers helped rescue loss-making Canada-listed Feronia that manages about 105,000 hectares of land in the Democratic Republic of Congo (DRC).
But Feronia was found to be paying some of its 3,600 staff less than the minimum wage and providing abysmal housing, prompting questions from human rights groups about using public money to fund a foreign company not helping poor laborers.
Following the investigation, Feronia hired Boston-based MASS Design Group as part of a plan to improve housing - but more than two years later little has changed for workers in one of the world's poorest nations, campaigners said.
Feronia's Chief Executive Xavier de Carniere admitted the company has yet to build new accommodation and was sometimes late paying its staff due to ongoing losses, urgent expenses and logistical problems transporting cash to rural plantations.
"We have thousands of houses that need renovating," Carniere told the Thomson Reuters Foundation, adding he hoped the company would be profitable by 2020 and able to invest more.
"In the short term it would be a bit odd to spend that money on rehabilitating houses and not be able to pay basic needs."
ROW OVER WAGES
A Feronia spokesman, Paul Dulieu, said the company was working hard to distribute salaries punctually and denied paying low wages, pointing to a new agreement with workers' unions which raised salaries by more than 50 percent in local currency.
He said a few unskilled workers were paid about $60 dollars a month which is higher than the minimum wage while other staff earned far more.
Campaigners accuse Feronia - of which Britain's development finance institution, the CDC Group, owns 67 percent - of failing to meet minimum standards of corporate social responsibility in Africa's second largest country.
"Conditions have not improved on Feronia's plantations despite commitments," said Saranel Benjamin from the London-based campaign group War on Want.
"The problem of low wages is greatly compounded by the company's frequent failure to pay wages on time."
Feronia counters it is a positive presence despite running at a loss as it employs thousands, pays about $4 million in taxes a year, supports health and education in rural areas, and respects local land rights in the conflict-hit nation.
Feronia was set up by Canadian hedge fund TriNorth Capital Inc and venture capitalist Ravi Sood in 2008 to buy plantations in the DRC and floated on the Toronto stock exchange in 2010.
But after several years of losses blamed on a drop in palm oil prices, political uncertainty, and changes in land laws, shareholders started to bail out. Feronia's share price dropped from a high of C$9.50 in March 2011 to its current $0.26.
BRITISH FUNDING
This led to an injection of foreign aid money by governments with a mission to help the world's poorest nations. Britain's CDC Group has invested $43 million in Cayman-Islands registered Feronia since 2013, said CDC spokesman Rhyddid Carter.
He said Feronia has built 500 new houses in the last two years but acknowledged some workers had not received salaries on time due to difficulties transporting cash to rural areas. Most laborers do not have bank accounts.
"The company is making significant strides to improve the arcane payroll process," Carter told the Thomson Reuters Foundation in an email exchange.
Critics argue funds designed to help poor countries develop should not finance foreign investors.
"It's not the purpose of official development aid to help multinationals to pay salaries to their employees," said Manuel Eggen from the Brussels-based food rights group FIAN.
Along with concerns over housing, campaigners including War on Want accuse Feronia of unfairly taking land from residents.
Feronia spokesman Dulieu disputed this, saying the company obtained territory with the consent of residents, pointing to a stack of binders with land title deeds during a video interview.
Dulieu said Feronia had only faced one land-related court case which the company won.
Noting that large-scale land deals can be controversial, Britain's CDC Group said in a report last October that it analyzed potential risks to local residents' land rights due to Feronia's plantations before investing in the company.
About 130,000 people live on Feronia's land and use the company's health clinics and infrastructure, Carniere said.
The DRC's embassy in London did not respond to requests for comment on Feronia's investments or land issues.
Carniere said Feronia plays a crucial role in supporting African food production with its palm oil sold locally.
"We are one of the largest employers in the country and a lot of people rely on us," Carniere said. "By the standards of the DRC we are among the best in class."
(Reporting by Chris Arsenault @chrisarsenaul, Editing by Belinda Goldsmith and Lyndsay Griffiths.; Please credit the Thomson Reuters Foundation, the charitable arm of Thomson Reuters, that covers humanitarian news, women's rights, trafficking, property rights, climate change and resilience. Visit news.trust.org)