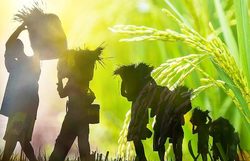 Filipino Times | January 26, 2017
PH agri attaché eyes 'food security' ties with UAE
Staff Report
The Philippine Embassy's agricultural counsellor said he is looking at working on an agreement in the area of food security with the UAE government in light of the recent signing of a Memorandum of Understanding between the two countries.
"My focus is on how the Philippines, through the Department of Agriculture, can assist the UAE government and the private sector to reach a tangible and workable food security cooperation," Agricultural Counsellor Gil B. Herico told The Filipino Times in an email interview from Abu Dhabi.
Herico said there is no UAE investor in Philippine agricultural farms. "But there is one from Bahrain having fresh Cavendish (banana variety) farms in Santo Tomas, Davao del Norte and Alabel, Sarangani Province​," he said, adding that there is also another investor from Kuwait with their fresh Cavendish bananas and pineapple farms also in Santo Tomas, Davao del Norte.
As agricultural counsellor, Herico is tasked to promote export of Philippine agricultural produce and invite GCC businessmen to invest in the country's agricultural farms, particularly, bananas and pineapples.
"We also organize selling and investment missions in the GCC including Iran and Russia as well as buying mission from this end. We also initiate exhibitions and fairs as well as conduct market study and commercial intelligence reports to assess how competitive our agricultural products in the GCC, Iran and Russian markets," he said.
The MOU, described as a "significant milestone in the 37-year diplomatic relations between the Philippines and the UAE" was reached on Jan. 12, 2017. It creates a "joint committee for cooperation" between the two countries." It covers everything from commerce, agriculture, economy, the judiciary and security.