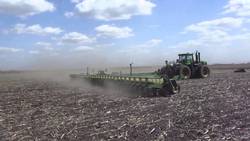 Black Earth Farming follows the likes of Landkom International and Alpcot Agro into takeover or, as Trigon Agri, into a reversal from the land-grab strategy to core holdings deemed viable to operate long-term.
Agrimoney | 13 February 2017
Black Earth Farming unveils $200m sell-out to Russian buyer
Black Earth Farming revealed it had agreed, in essence, a $200m takeover by a Russia's Kukura family in the most high profile of a series of retreats by foreign investors from the Black Sea agricultural market.
Stockholm-listed Black Earth Farming, one of the biggest foreign-controlled farming groups in Russia, said it had agreed a sale of its operating companies to Volgo-DonSelkhozInvest, owned by the Kukura family, which is best known for its links to oil and gas giant Lukoil.
The sale, valued at $200m including debt, is aimed to be followed "as soon as practically possible" with the liquidation of Black Earth Farming, and the distribution of deal proceeds to shareholders, who are expected to receive SEK7.2-7.5 per Swedish depository receipt.
That offers a premium of a modest 7.5-11.9% to the share price as of Friday's close, but "corresponds to a premium of between 97-105% compared to the volume weighted average trading price for the three months" ahead of an announcement in August that it was in talks with Russian investors.
The shares closed on Monday at SEK6.80, a gain of 1.5% on the day.
'Better alternative'
In fact, the August announcement said that Black Earth Farming was in talks over a "substantial land and asset sale", with suitors including sugar-too-oilseeds agricultural company ASB Group, which is also centred on Russia's Central Black Earth region.
However, "having evaluated an asset sale versus other alternatives", Black Earth Farming said the deal being proposed "is a better alternative for… shareholders than continued long-term operations".
Per Åhlgren, the Black Earth Farming chairman, said: "Having evaluated this transaction and the alternatives, including continuing running the business, we are convinced that the sale to Volgo-DonSelkhozInvest offers the best value for all of our shareholders."
Richard Warburton, the group's chief executive, said: "Out of the several discussions we have conducted with interested parties, I am satisfied the transaction being proposed is the most favourable for Black Earth Farming's shareholders in terms of both value and risk."
Strong start
The disposal comes 12 years after Black Earth Farming was founded, amid a wave of interest in farming in eastern Europe and in the former Soviet Union, viewed as emerging agricultural markets – as indeed they still are to many investors.
Savills last week flagged the cheap price of Romanian farmland compared with than in western Europe.
Black Earth Farming was initially lauded by investors keen to tap into what was seen as strong story – marrying the need to feed a growing and increasingly wealth world population with the vast swathes of underutilised farmland in the likes of Poland, Russia and Ukraine.
Its shares, listed in December 2007, had soared more than 60% within two months, to a record high above SEK 66.
And it had by 2009 expanded its landbank to 328,000 hectares – an area bigger than Luxembourg – harvesting nearly 229,000 hectares of that in 2011.
Profits hard to come by
However, while the group reported profits in both 2012 and 2015, these have been dwarfed by the losses prompted by factors such as the slide in global wheat prices since 2008 and Russia-specific factors, including the knock-on effects of export curbs and sanctions following the invasion of Crimea.
Black Earth Farming had, as of 2015, achieved an overall net loss of some $250m, calculated by subtracting its $21.3m in profits over 2012 and 2015 from combined net losses the other years exceeding $270m, as collated on Reuters data.
Tuesday's announcement means it has followed the likes of Landkom International and Alpcot Agro into takeover or, as Trigon Agri, into a reversal from the land-grab strategy to core holdings deemed viable to operate long-term.
Some commentators, such as farm management group Velcourt, have also in the past warned of cultural difficulties and plain "dishonesty" and "lack of accountability" in farming in Russia, although it is not obvious that such difficulties are endemic, or specific to any one country.
Growing concern
The buyer, Volgo-DonSelkhozInvest, operates more than 200,000 hectares of farmland, and "several" grain elevators, based in Russia's Volgograd and Lipetsk regions.
The business, which "specialises in grain, corn, sunflower and cereals", is ultimately owned by the Kukura family, which was reported in November by Russian media as having bought 50,000 hectares of land in Lipetsk, as sold by state bank VTB.