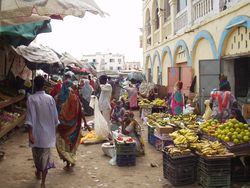 Sudan News Agency | 10 February 2017
Sudan: Investment Minister welcomes Djiboutian desire to invest in agricultural sector
Khartoum — The Minister of Investment Mudathir Abdal-Ghani Abdal-Rahman stressed, in a meeting with the Djibouti Minister of Housing, Rehabilitation and Environment Musa Mohamed Ahmed, the importance of developing the economic cooperation through revitalization of the joint ministerial committee to accomplish the mutual interests of the two countries.
The minister stressed his ministry full cooperation with the Djiboutian desire to invest in the country in the food security, pointing out that Sudan supports partnerships with the Arab countries through official agreements, referring to the facilities and guarantees the state provides to encourage investments in all fields.
Meanwhile, the Djiboutian minister expressed his country's desire to invest in agricultural sector in Sudan to achieve food security depending on the President Al-Bashir's Initiative on Arab Food Security, adding that his country looks forward to benefiting from the agricultural opportunities available in Sudan, pointing out that investment is one of the important tools in the development of cooperation relations among nations for its direct role in the realization of the people's interests, stressing his country's readiness to open investment horizons with Sudan.
The meeting underscored the need to prepare studies and agreement over the investment partnerships' formula as well as organization of investment forums between the two countries including the businessmen in the two countries, exchange of visits and experiences and provision of the required information.