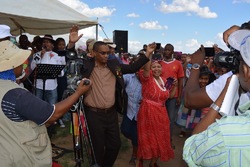 A crowd welcomes Bernadus Swartbooi to the podium to deliver his message at the Keetmanshoop mass meeting on Saturday. (Photo; The Namibian)
The Namibian | 6 February 2017
Groups join forces over ancestral land
by Luqman Cloete
THOUSANDS of landless people from the Nama, San, Herero and Damara minority ethnic groups gathered at Keetmanshoop on Saturday to demand their ancestral land, which they claim they were dispossessed of during the colonial German and South African regimes.

Addressing a mass meeting held under the banner of the Landless People's Movement at the J Stephanus Stadium, Swapo parliamentarian Bernadus Swartbooi said the gathering was the most glaring display of legitimate discontent in the administration of the country.
"We say Mr Geingob (President Hage Geingob), give us back our land. For Mr Geingob, we are hungry and we are thirsty. As land-dispossessed citizens, we demand our ancestral land," Swartbooi said.
The outspoken parliamentarian, who was recently axed by Geingob as land reform deputy minister for defying an order to publicly apologise for comments against minister Utoni Nujoma regarding skewed land distribution in the country, denounced those labelling the landless group as a tribalist movement.
"They must go to hell. We have been long in the hell of landlessness. Keep your damn interpretations, we want our land back. We are not begging, we are demanding," he stressed.
He warned that landless people should not be pushed to the limit in their quest to reclaim their ancestral land for the future of their children.
Swartbooi disagreed with the notion that the constitutional provision which guarantees that Namibians could settle anywhere in the country deprives others from getting back their ancestral land.
"I am a lawyer. Don't lie. It is not a stand-alone provision, and not the alfa and omega. It does not deprive others to get their ancestral land back," he said.
Swartbooi said government cannot continue with the same policies of the colonisers by ignoring the landless, and yet claim to be fighting poverty.
He argued that poverty can never be successfully eliminated unless the land question is handled in accordance with the views, experiences and expectations of those who lost ancestral land.
"We have suffered for too long. We want to live well in the land of our ancestors. What is the crime in this simple call?" Swartbooi asked.
Referring to recent remarks by Nujoma, Swartbooi said government cannot insult people by calling them unpatriotic when they raise the issue of land dispossession.
"Only an unpatriotic and docile undertone can utter such irresponsible statements," he countered.
The parliamentarian further demanded that the "notorious and ridiculous" Land Bill be used as a mere working document at the second land conference which is set to be held this year, adding that landless people will not make inputs to the narrow dictates of the government's reform agenda.
"It is not in our interest, and it is not in the national interest. If needs be, as landless dispossessed Namibians, we will institute every measure of legal action on this and other issues of land reform," he stated. "We must take back our land, using every legal means available to us. Let us take back our land for the sake of our children and future generations."
Swartbooi also expressed concern over what he called land grabbing by 'corrupt' politicians and their powerful and international business partners in various northern regions of the country.
He urged those being pushed off their land in dubious ways to organise themselves to stand up for their land rights.
"Let us stand up against the injustice. In a country where politics is often too divisive, they have tried to paint the deep-seated loss of ancestral land as a tribal Nama/Ovaherero issue," he stated.
Swartbooi stressed that the movement should not be seen as a political or ethnic movement, as it is aimed at addressing the Namibian land issue, while presenting committee members from various regions to the gathering.
When he was introducing some of the attendees, the patron of the Ovaherero genocide committee Festus Muundjua asked Swartbooi to join him in forming a new political party. However, Swartbooi quickly declined.
"No, no, no," he said, adding that an interim committee which was established to organise the people must not be construed as a political party.
"We know that there is a strong police and intelligence contingent in town to monitor this meeting, and it will be said that a new party was started, but that would be lies."
The committee comprises people from different ethnic groups representing landless people in Namibia. Prominent people on the committee include former Swapo Party employee Henny Seibeb; Norman Tjombonde; who is the son of Ovaherero paramount chief Vekuii Rukoro; former student leader Sima Luipert; as well as activists Rosa Namises, Ferdinand Jacobs and Paul Thomas.
Swartbooi also used the opportunity to again refute claims by Geingob that he had resigned as land reform deputy minister.
"I did not resign. He asked me to leave the office after I refused to apologise," he explained.
Several Ovaherero, Nama and Damara traditional leaders as well as political party leaders attended the meeting and gave statements of support.
Another similar meeting was held at Maltahöhe yesterday.