Phnom Penh Post| 6 February 2017
Sugar giant has sweet dreams
by
Cheng Sokhorng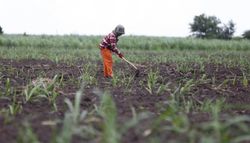 A worker tills the soil on a sugarcane plantation in Kampong Speu province last year.
Photo: Hong Menea
A colossal sugar mill in Preah Vihear province will roar to life again next week, promising to devour 1 million tonnes of sugarcane in a two-month production run that is expected to yield 100,000 tonnes of refined white sugar, as well as a sizeable chunk of surplus electricity, a company representative said yesterday.
Rui Feng (Cambodia) International's sugar mill and refinery, built at a cost of $360 million, opened last April for a limited initial production run that processed just 10,000 tonnes of sugarcane – about half a day's work for the monster-sized mill.
Kuy Yoeurn, an administrative manager for the company, said the factory will start up production again in mid-February with a far more ambitious production target to match its much-larger supply of raw materials.
He said the second run will last 50 to 60 days, processing a total of 1 million tonnes of sugar cane, as well as a large quantity of electricity generated from the factory's byproducts.
"The supply of sugar cane is increasing from one production run to the next, but we still don't have enough to meet our full capacity," he said. "We will continue to expand our production annually in order to supply the international market."
The government granted Rui Feng an 8,841-hectare economic land concession (ELC) in 2011 for cultivation of sugarcane, rubber and acacia. The Chinese-owned firm and its four sister companies collectively hold five separate ELC licences covering a total 40,000 hectares.
The company claims the mill is capable of processing 20,000 tonnes of sugarcane per day, turning it into 2,000 tonnes of refined sugar for buyers in the EU, China and India.Yet according to Yoeurn, the company's initial production run was cut short due to a shortage of raw materials and seasonal issues.
He said the giant factory halted production just a few months into production due to the limited supply of sugarcane as the company gradually brings more of its land under cultivation. In any case, he added, sugar refineries normally operate just once a year, processing sugarcane during the dry season.
"Normally, the production line for refining sugar should operate during the dry season in order to produce high-quality sugar," he said. "We cannot run year-round production yet because our harvest of sugarcane is still limited and we need to do maintenance on the machines as well."
The company employs 1,800 people on its plantation and will purchase sugarcane from farmers in surrounding areas as demand requires, he added.
Provincial agricultural officials said last year the Rui Feng had offered to pay local farmers $39 per tonne for sugarcane.
However, Ong Vuthy, governor of Tbeng Meanchey district, said the company ended up paying $28 to $30 per tonne. He said Rui Feng's expansion would hinge on building good relations with farmers in the area and convincing them to supply its mill.
"The number of farmers growing sugarcane for the company will grow if contracts with the company go smoothly and farmers who switch from rice to sugarcane find it profitable," he said, adding that 40 to 50 farming families have signed contracts to supply the factory.
Rui Feng and its sister companies will also need to smooth out relations with the local Kuoy community.
The Chinese sugar producer has been embroiled in a slew of confrontations with Kuoy villagers, who accuse the company's employees of forcibly clearing disputed farmland.