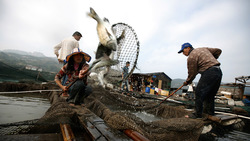 Photo: NY Times
Khmer Times | 3 February 2017
Aquaculture plan gets the nod

Cambodia has agreed for a China-based firm to invest $100 million in freshwater and seawater aquaculture projects to supply fish for local demand and export.
The Ministry of Agriculture, Forestry and Fisheries (MAFF) yesterday signed an agreement with China Ocean Fishing Holding Limited for a joint venture with Khmer Holding Group on investments in aquaculture.
Fisheries Minister Veng Sakhon said the freshwater and seawater investment was worth $100 million in areas around the Tonle Sap river, Mekong river and Preah Sihanouk province to increase output of fish to meet market demand.
The Chinese company would also examine the possibility of creating a business to use raw materials in Cambodia to make low-cost fish feed for local fish farms.
At the same time, the company is looking at quality assurance and fast-growing fish species to compete in neighboring markets and help improve the living standards of people and the economy, said Mr. Sakhon.
As a first step the company will set up a pilot zone to grow tilapia fish in 200 hectares of ponds before investing in 2,000 hectares.
Kang Khim, fishery administration vice director at the Ministry of Agriculture, welcomed the project, saying it would increase fish yield to meet local demand as well as for export.
"The project will give more advantages to Cambodia such as increasing the fish yield with quality fish and improve local farming," she said.
The total export of fish products decreased in 2016 even though fish yields rose, causing income from the fisheries sector to drop by nearly a half compared with a year earlier.
An Agriculture Ministry report showed that income from the fisheries sector in 2016 was $565,000, a dramatic decline of about $465,000 from 2015.
The total export of fresh fish products was 9,100 metric tons and export of processed fish products was 5,200 metric tons, a decrease of 1,400 metric tons and 300 metric tons respectively, the report read.
However, fish yields increased compared with 2015. Freshwater fish yields reached 70,200 metric tons, up 19,600 metric tons from 2015, while marine fish yields were 10,525 metric tons, up 425 metric tons.
--
The Cambodia Daily | 3 February 2017
BY HANG SOKUNTHEA
A Chinese firm has signed a memorandum of understanding (MoU) with the Ministry of Agriculture, Forestry and Fisheries to develop an industrial-sized fish farm, the country's first facility on such a large scale.
Jianyutang (Cambodia) Fish­­­ery will be responsible for building fish stocks to manage sustainable fisheries, developing aquaculture technology, generate investment, and promoting more trade and investment in fish breeding, among other things.
The facility will also develop commercial fish feeding methods, as well as process the fish meat on-site, according to the agreement, which was signed on Tuesday, the ministry said on its Facebook page.
Local fish farms in Cambodia are traditionally small, family-run businesses. In contrast, a figure of $100 million was mentioned last week in local media reports about the new industrial fish farm.
Eng Chea San, director-general for the Agriculture Ministry's Fisheries Administration, said the MoU was just the beginning of discussions about the project, and more detailed plans on implementation were needed.
"We will have to see based on the reality of the different fields to decide on how to implement these plans, and decide on where to spend the budget and how much that will cost," Mr. Chea San said.
He said he could not confirm costs for the farm or provide any additional details.
According to a report published by Reuters in December, Jianyutang (Cambodia) Fishery is part of a joint venture between China Ocean Fishing Holding and Khmer First Investment Holding Group to invest in fishery activities in Cambodia's coastal area.