Khmer Times| 1 February 2017
Hundreds ask for help in disputes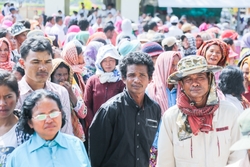 Some of the families involved in disputes with the sugar companies. Photo: Khmer Times/Mai Vireak
About 500 people representing thousands of families from four provinces who are affected by the development of sugarcane plantations requested intervention from Prime Minister Hun Sen yesterday.
The request was made at a gathering to submit a petition to the prime minister's cabinet and the European Union by citizens from Kampong Speu, Koh Kong, Preah Vihear and Oddar Meanchey provinces.
They are engaged in long-running land disputes with at least a dozen companies including Phnom Penh Sugar, Kampong Speu Sugar, Koh Kong Sugar Industry, Koh Kong Plantation, Chinese company HLH and Angkor Sugar.
Seoung Sokhom, a representative of more than 700 families in Kampong Speu province's Oral and Thpong districts, said that land disputes involving 1,000 hectares between them and Phnom Penh Sugar and Kampong Speu Sugar – both owned by ruling party senator Ly Yong Phat – as well as HLH had occurred since 2010.
An inter-ministerial working group and the EU had in the past gone to evaluate the impact of those companies on the villagers' land to find the solution, but a document was still waiting for the prime minister's signature.
"We came to submit this petition to ask the prime minister to consider signing on those matters. We want the prime minister to sign so the inter-ministerial committee can go and evaluate compensation for us," he said.
According to Mr. Sokhom, each family had between half a hectare and 10 hectares in dispute with the companies.
The petition stated that the concession of land to investment companies had resulted in a multitude of problems such as land grabbing and evictions. It mentioned that villagers had wasted time and money over the years, with some piling up debts and falling into poverty.
Nget Sim, a representative of 538 families from Koh Kong province's Sre Ambel district, said the families were in a land dispute involving more than 2,300 hectares with Koh Kong Plantation, another company owned by Mr. Yong Phat.
He said they had never gotten any results from past requests for intervention, explaining why they were this time asking Mr. Hun Sen directly along with relevant ministries and the EU.
Pal Chandara, the chairman of the Council of Ministers, said he would send the petition to the Land Ministry's expert commission to review and solve the problems directly at those locations.
"Experts from the Land Ministry will go there. I have already decided to send them as this land dispute cannot be solved in Phnom Penh," he said.
"It needs to be solved at the place directly and we need to see the actual documents. If the people who protested have any documents, they can give them to us as the Land Ministry's commission will get to work."
However Seth Setha, the land dispute coordinator for Mr. Yong Phat's companies, denied that more than 1,000 families were affected in the land disputes, claiming that only 24 families out of 270 in Kampong Speu province were still affected.
He also denied that Mr. Yong Phat's companies were directly involved in any land disputes in Koh Kong province.
"Relating to this land dispute resolution, the company has tried their best to solve it. We have the willingness to work hard for them," he said.
Nearly 100 families have so far accepted compensation from the company to end the long-running conflict, he said.
Suon Thorn, who accepted compensation of $1,500 from the company for five hectares of land in Kampong Speu province's Oral district, said she accepted the money because her family was poor and felt it was hopeless to keep protesting.
"Although we accepted $500 per hectare of land, we still do not know where to buy new land as the current price is between $5,000 and $10,000 per hectare," she said, explaining how she had received $1,500 for her land irrespective of the price per hectare originally agreed upon.
"We have suffered so much as we are the land owners but we work for them. They took our land to grow sugarcane. We are the land owners but we work for them – how painful is that?"