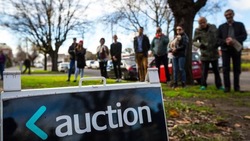 Photo: Chris Hopkins
The Land | 30 January 2017
Investors gain from rising Australian farm values and still more in the tank

by Matthew Cranston
Investors who took a risk and bought into Australian farmland in the past 18 months have been vindicated, with rising values across the board supported by strong commodity prices, good weather and expectations of further growth.
All the big names have made agricultural plays including Gina Rinehart with her $386 million purchase of Australia's largest landholder S. Kidman & Co along with smaller NSW grazing property buys, billionaire retailer Brett Blundy's early play last year buying the Macquarie Group-managed Paraway Pastoral's Walhallow cattle station for $100 million, and in more low-key recent purchases hedge fund manager Michael Hintze has been back in the market picking up about $25 million in prime grazing properties in NSW, where values are enjoying an upward trajectory.
"In short, most regions have seen positive uplift in values over the 12 months from a few percentage points to double-digit growth," the head of Australia's largest rural valuer Herron Todd White's Tim Lane said.
"The water market has also firmed further across the board."
In late 2015, before values really started to move, former Woolworths chief executive Paul Simons snapped up a sprawling sheep grazing property east of Young, NSW, for $6.5 million and said he thought the capital value for Australian agricultural land would rise.
Now all across NSW there is evidence of significant increases in value. For Mr Simons, who bought in at about $1970 per hectare, similar properties are now trading for $2700 per hectare.
"The values are rising all the time," Mr Simons said.
"I think it's because of the prices we are getting for wool and sheep meat – they have risen quite dramatically and I can't see an end to that," he said.
The price of wool reached a record high this month and the price of lambs are also trading well above previous year's levels.
In the Northern Tablelands of NSW, which has enjoyed its best season in 10 years following good winter rainfall, corporates such as Rifa Salutary, the Australian arm of China's Zhejiang Rifa Holding Group, purchased two huge prime agricultural properties south of Tamworth for about $55 million. Macquarie Group's Paraway Pastoral purchased properties in the new England area from Sundown Pastoral Company.
Macquarie's Paraway was also an early buyer in Victoria last year, snapping up its first farm there – Beckworth Court property outside Ballarat – for more than $15 million.
There have been some standout increases in value in Victoria including in the north around Echuca, where there has been exceptional rainfall.
Herron Todd White valuer David Leeds said the conditions had "resulted in a significant shift upward in underlying land prices, particularly in the Mallee".
Already this year there have been some strong sales with billionaire CQS hedge fund manager Michael Hintze acquiring his first Victorian farming property – the historic Cheviot Hills in the Western District – for more than $10 million last week. Last year he snapped up Deltroit Station in the Gundagai district of NSW for about $15 million.
However, the real action has taken place in the bigger cattle station market where drought conditions have been alleviated and the prices for cattle have risen along with the competition for productive land.
"It is not very often that you travel west from Rockhampton to find that the further west you go, the greener it gets," Herron Todd White's Michael Chaplain said.
"The winter months have put an end to what was widely considered the worst drought in the past century. The abundance of feed on the ground is extraordinary, making it difficult to imagine that only 12 months ago some of these areas were struggling to keep even the most resilient native animals alive."
He said the biggest problem faced by stakeholders in this region was finding and affording stock to take advantage of these "phenomenal circumstances".
"Values across central Queensland have continued to strengthen in recent months."
Some of the major sales during last year included the listed Rural Funds Group snapping up Lynora Downs, a 4876-hectare cotton property, for $26.5 million. BRW Rich Lister and cattle baron Peter Hughes' acquired Tumbar station south of Jericho in central Queensland for about $57 million. The biggest acquisition by far was by Paraway Pastoral, which backed by an offshore pension fund, paid more than $135 million for two cattle stations owned by the Western Grazing Company.
Colliers International's director for valuation Shaun Hendy said fundamentals were a key driver to the rising values but he is also cautious of how the values can be sustained.
"The capital gains made in the last two years have been as a result of strong prices being paid for processing cattle and restocking cattle classes," Mr Hendy said. "The industry is well aware that the current prices are above average and sustainable levels, however, there is also belief that the new norm for cattle prices will be higher than the historical average levels, even after a downward readjustment to current prices. Because the industry is aware of this, the basis of the current level of investment is considered to be on a more sound footing than previous high cycles."
"There is a risk that the sheer weight of investment dollars available may drive values to unstainable levels."
Major cattle station companies have already booked big uplifts in value including the Australian Agricultural Company whose rural portfolio gained 15.8 per cent.
Colliers director for Rural and Agribusiness Rawdon Briggs said he expected 2017 to see further gains.
"This year we will see a significant increase in the size of agribusiness transactions occurring in Australia as investors seek to gain scale and quality. Even after the significant lift in values during 2016 our farming land is still better value than alternative geographies of US,UK and Europe."
In southern Queensland Herron Todd White valuer Stephen Cameron said properties on the Inner Downs had been relatively thinly traded, but there was still "a distinct firming trend in values".
"Many established operators are now looking to secure further country but ideally being near neighbours to provide farming scale. In some circumstances significant premiums have been paid either by the power of auction, with strong competition by multiple neighbours, or similar off-market transactions where there is an opportunity to secure the asset within a tightly held region."
In Western Australia where there have been strong results from the wheat belt.
Those areas not affected by frost events have reported above average yields resulting in increase property sales activity, according to Herron Todd White's David Abel.
Now and into 2017 agribusiness is being promoted as the next big thing, with increasing market activity, resulting in land and asset values accelerating at a greater rate towards a peak as local and international demand increases.
This story first appeared on The Australian Financial Review.