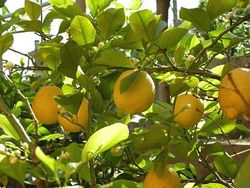 Jaranda Agricultura Norte is owned by Jacaranda Development Limited Mauritius, which is reportedly owned by South Africans.
WAM | 29 January 2017
Dubai to import lemons from Mozambique
Nampula (Mozambique), 26th January, 2017 (WAM/AIM) -- A company in the northern Mozambican province of Nampula is to begin producing lemons for export to Dubai later this year.
The company, Jacaranda Agricultura Norte, is already producing bananas commercially, and its citrus operation will begin with ten hectares dedicated to producing lemons.
According to the General Manager of Jacaranda, Abilio Chipupure, if the business proves sustainable, the company will increase the area devoted to lemons in the near future. "The contract with Dubai is pretty much firmed up", said Chipupure. "There are just a few technical details to be finalised, such as the forms of packaging and exporting the product. The market is guaranteed. When it's all fixed, lemon production will take off with the prospect of gradually increasing the area under production."
Jacaranda has been producing bananas on an area of 50 hectares in the Nampula district of Erati since 2010. Last year, the Erati district government granted Jacaranda a further 100 hectares, on which it intends to produce not only lemons, but also maize and soya for animal feed. Part of the area will be used for livestock, and Jacaranda also hopes to build a meat processing factory.Macauhub | 23 March 2015
---
The Eráti district, in Mozambique's Nampula province, wants to increase the volume of banana exports to the Asian market and find new markets for its product.
According to Mozambican daily newspaper Notícias the local government plans to provide the Jacarandá Agrícola agricultural company with land of over 6,000 hectares in Mirrote (Namiroa) to allow the expansion of banana cultivation.
Jacaranda Agrícola, a joint venture established in Eráti district in 2010, grows bananas in a 50-hectare area it considers to be insufficient for future expansion.
The United Arab Emirates which last year imported about 3,000 tons of bananas produced in the Eráti district were the main market for bananas grown by Jacaranda Agrícola.
Jacaranda Agrícola plans to repair, using its own funds and those of the Eráti government, the 35 kilometres of road to Mirrote, which will improve the transport of its products.
Nampula province has c two major producers of bananas for export: Matanuska and Jacaranda Agrícola, which are the two largest banana producers in Nampula province. (macauhub/MZ)