Reuters| 25 January 2017
Algerian firm signs $300 million farming deal with U.S. group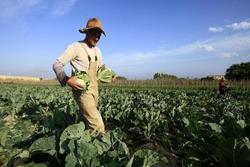 A farmer harvests cauliflowers for sale at the field in Tipaza, west of Algiers, Algeria June 3, 2015. Photo: Reuters/Ramzi Boudina
An Algerian company has signed a deal with a U.S. group to set up agricultural projects worth $300 million in the North African country as it seeks to reduce dependence on imports, Algeria's agriculture ministry said on Wednesday.
Under the deal, privately-owned Algerian dairy company Tifralait and the American International Agriculture Group (AIAG) will set up a joint venture to develop projects over an area of 25,000 hectares covering cereals, potato, fertilizers, dairy and cattle feed, the ministry said.
Algeria imports most of its agriculture-related products because of weak domestic output, but has promised to develop the farming sector as part of efforts to diversify the economy away from oil and gas after a drop in oil prices hit state finances.
It has also approved a new investment law offering incentives to foreign and local private firms willing to invest in the non-oil sector.
Foreign investors often find Algeria a complex market to enter because of heavy state bureaucracy and a regulation requiring Algerian partners to hold 51 percent in any joint venture with foreign companies.
The North African state's economy is slowly emerging from years of socialist-inspired state centralization and protectionism that following independence from France in 1962. A decade of war with armed Islamists in the 1990s also left Algeria's economy underdeveloped.
Oil and gas earnings still account for 60 percent of the state budget and 95 percent of total exports for the OPEC member nation as it has struggled to diversify.
Tifralait will hold a 51 percent stake in the joint venture, with AIAG owning the remaining 49 percent.
The farming projects, planned for the southern province of Adrar, are aimed at producing 22,000 tonnes of cereal, 105,000 tonnes of cattle feed, 190 million liters of milk and 20,000 tonnes of red meat per year.
(Reporting by Hamid Ould Ahmed; Editing by Mark Potter)