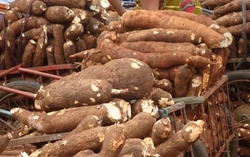 Tanzania Daily News | 16 January 2017
Cassava pact with Chinese firm 'a big boost'
The government has described a-one billion US dollar partnership agreement on commercialisation of cassava farming and processing with Tanzania Agricultural Export Processing Zone Limited and Epoch Agriculture (TAEPZ) from China as a big boost towards industrialisation.
Permanent Secretary in the Ministry of Industry, Trade and Investment Dr Adelhelm Meru said once the agreement fully implemented will transform living standards of farmers yet completing the government's commitment of making Tanzania an industrialised country.
"With assurance of markets and good prices to our farmers, we will definitely increase cassava production, thereby increasing their income and creating employment. I, therefore, urge TAEPZ to ensure that farmers in their groups are well capacitated in terms of meeting the industry demand," Dr Meru said.Speaking at a brief signing ceremony held in Dar es Salaam over the weekend, Dr Meru thanked the Chairperson of TAEPZ, Madam Dior Feng for choosing Tanzania as the right destination of investment.
He added that, for a long time Tanzania farmers have been victims of exporting raw materials, they lose jobs, technology and waste. Because even waste can be used as animal feed and fertilizer. "My appreciation is on seeing the possibility of transforming our cassava farming into commercial processing.
This is indeed a high level means of changing our farmers' welfare," he said, challenging the private to exploit the opportunity. Speaking at the same occasion, China's Ambassador to Tanzania, Dr Lu Youqing, said the agreement would bring hope to Tanzanian farmers because cassava was one the potential food crops in China where it commanded good business. "We in China have decided to work with Tanzania in transforming her economy.
And recently, Chinese Foreign Minister Wang Yi was in Tanzania during which he insisted on the transporting food crops to China," he remarked. Madam Dior Feng said that as a company, they shall have outgrow schemes as well as demonstration farms to get sufficient materials for processing.
"We shall also establish an industrial park comprising of factories to produce high quality cassava flour, cassava starch, animal feeds, organic fertiliser and paper pulp with industrial park, starting with three regions Mtwara, Lindi and Coast.
The next phase will include production of industrial sugar and ethanol." This is a huge investment in the history of cassava production in Tanzania taking into account that Africa is rich in agricultural resources -- with around 200 million hectors arable land, 13 per cent of the world total. But the continent's agricultural development is undermined by a weak foundation and major poor population. Large, untapped fertile lands are put into waste.
Earlier, the Executive Director of Tanzania Private Sector Foundation (TPSF), Mr Godfrey Simbeye, said Tanzania has a lot of untapped opportunities, saying the private sector was ready to make a fully use of them. "We as TPSF, have to intervene in the project for the purpose of ensuring that it is fast-tracked and given its potential in spurring inclusive economic growth.
We facilitated the assessment whereby our country can conform to Chinese standards," he said. He said cassava, as a white gold, features well in the current industrialisation strategy and also solves food security challenges.
According to Mr Simbeye, the current statistics indicate that Tanzania produce 5.5 million tons of cassava every year, while TAEPZ will consume 2.5 million tons of dry cassava every year.