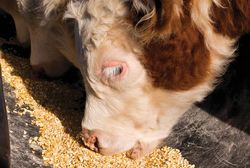 Al Dahra Agriculture says deal will give it access to a strategic growers and suppliers base, in addition to farming land in Western Australia
Arabian Business | 10 December 2016
UAE's Al Dahra buys stake in Australian animal feed processor
Al Ain-based Al Dahra Agriculture has announced that it has completed the acquisition of a majority stake in Australian feed processor Glenvar Hay.

The purchase will lead to the formation of a new entity called Al Dahra Glenvar Hay Pty Limited, a statement said.

Glenvar Hay has been producing a variety of quality feed products since 1925 and has an established sales network domestically in Australia and overseas across Asia and the Middle East.

As a result of this acquisition, Al Dahra Agriculture said it will gain access to a strategic growers and suppliers base, in addition to farming land in Western Australia.
Khadim Al Darei, vice chairman and managing director of Al Dahra Holding, said: "This initiative constitutes another milestone in terms of Al Dahra's strategy to geographically diversify investments and establish presence in the southern hemisphere in order to ensure product availability across all seasons and mitigate market risks.

"In addition, the acquisition further strengthens our commitment to our growing customer base in Asia and the Middle East and our dedication to satisfy the particular needs of those markets."