All about Alpha| 11 December 2016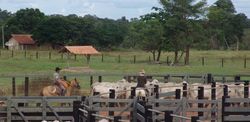 Report
shows TIAA-CREF, used a complex company structure to avoid restrictions on foreign investment in farmland in Brazil to grab large areas of farmland from small farmers and indigenous peoples in the Brazilian states of Maranhão and Piauí.
TIAA report on responsibility and farmland
Biff Ourso, TIAA's portfolio manager for agriculture investments, says in a prefatory message to their new report that "concerns have been raised about whether investment in regions such as Brazil contribute to land conflicts, lead to the displacement of local people … or foster excessive pesticide usage." TIAA, which has been investing in farmland since 2007, says that it takes such concerns, and others, very seriously. Its own investments in this area are conducted according to five principles: the promotion of environmental sustainability; respect for labor and human rights; respect for existing land and resource rights; high business and ethical standards; and transparency.
In the main body of the report, TIAA begins with a statement of its "core investment strategy … acquiring existing high-quality farmland and identifying best-in-class local farmers to operate the farms through a leasing or custom farming arrangement."
Under the heading "challenges to farmland investing," the authors introduce the issue of water scarcity.
Water and land are, of course, intermingled concerns, in biology, geology, and finance. TIAA says that it places "great importance on measuring and managing water consumption on our properties." Its managers work to minimize rainfall runoff and soil erosion. Where irrigation is necessary, "our tenants use recyclable polyethylene piping. "
The Delta and Brazil
The report pays especial attention to certain technological developments in the Mississippi delta of the U.S. For example, several TIAA tenants in that region use web-based tools for planning irrigation tube and layout and otherwise to improve the efficiency of the systems. Also, TIAA participates in the Yazoo Mississippi Delta Joint Water Management District's flow meter irrigation program. "TIAA met the YMD 10% well metering target at the end of 2015 for its properties and also put a policy in place to add flow meters when appropriate to new wells drilled in the region."
The main body of the report in time returns to Ourso's prefatory observations specific to Brazil. An independent consultant, BSD Consulting, has found that "the majority of our tenants" were largely in compliance with Brazil's own regulations and with best practice standards. The larger tenants have fewer infractions than the smaller ones, as the larger operations "are better capitalized and have well-developed operational procedures and policies…."
But a majority is not a totality, and in the light of the BSD's assessment, TIAA has worked "to address and correct identified issues."
TIAA's strategy of acquiring land that is already farmland means that it does not displace any indigenous people through its Brazilian tenants, and it has a due diligence process to ensure that it doesn't acquire any land with indigenous or "quilombolas" claims to it, either. [The quilombolas are the descendants of slaves who escaped from their enslavement and founded villages. Those villages have protection under the Brazilian Federal Constitution. ]
Fruits of Employment
In 2009, TIAA created a hiring initiative that it calls the Fruits of Employment, beginning with an apple property in Washington State. The idea was and is to "provide a skilled, safety-conscious, and stable workforce for TIAA's farmland investments," inclusive of disabled persons.
Disability experts train the farm managers on how they may best train and support disabled individuals to perform all the general tasks required for the smooth operation of the farm. The initiative now includes six locations.
Transparency
The fifth principle on TIAA's list is transparency. As part of the implementation of that principle, TIAA uses third-party certification extensively "as a way for our stakeholders to ensure that defined and appropriate industry best practices are being followed." TIAA also regularly submits "written comments on regulatory proposals and [its officials] testify before various governmental bodies, administrative agencies, and self-regulatory organizations."
Further, through the TIAA-CREF Center on Farmland Research, it "makes information on farmland returns and their impact on an investment portfolio available to all interested parties."
Concluding
In a concluding segment, TIAA looks at various "strategic developments" during 2016 that will "further expand TIAA's management presence in the global farmland market. One of these is its acquisition of a large, diversified portfolio of land in Poland that "offers attractive long-term investment potential with the opportunity to work with a strong and developing network of local partners in the European market." It also has made its first investment in Chile, and it is close to closing on its first vineyard investment outside of the United States: that will be in New Zealand. It looks forward to "sharing more details of our progress on these initiatives with all stakeholders in our next report."