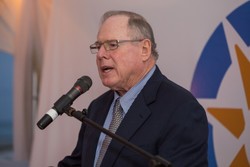 The Sante Fe mega farm is owned by Barbadian business mogul Sir Kyffin Simpson, Chairman of The Sol Group.
Stabroek News | 5 December 2016

Billion-dollar Santa Fe farm eying cattle expansion

By MARCELLE THOMAS

After six years and an investment of over $1.3B to date, the Santa Fe mega farm in Region 9 is waiting on government's go ahead for an additional 20,000 acres of land to begin cattle rearing in early 2017, thus completing the first phase of the project.

"Early next year we are looking to complete an agreement with government for the lease of another 20,000 acres of land as we keep pushing aggressively ahead," Director of Santa Fe Farms, Richard Vasconcellos told Stabroek News in an interview on Saturday on the farm.
Further, he added "We are really moving now. We have done our rice, we are comfortable with our yields and we are now going into our cattle programme aggressively. We are also looking to bring in some black belly rams from Barbados as we continue with our sheep programme…and that would complete phase one"
--
Nation News | 19 November 2013
Barbadian business mogul Sir Kyffin Simpson is planning the expansion of his mega farm at Sante Fe in Guyana, while other Barbadians are also seeking to take advantage of opportunities for agriculture in the South American country. It is a move being welcomed by Guyana's Minister of Agriculture, Dr Leslie Ramsammy, who said the Caribbean must be seen as a "single space" in which development of Guyana's vast lands could be worked on "together" to meet the Caribbean's food needs and avoid "the vagaries of circumstances that cause the uncertainty of prices that we suffer from". Speaking to the DAILY NATION at the Radisson Barbados Resort yesterday, Ramsammy said Guyana had provided "all the incentives anyone could need" and people were slowly beginning to see the potential and were responding. He disclosed his government was having discussions with "some Barbadians" who were exploring the possibilities. Here to attend the 53rd meeting of the Caribbean Meteorological Council, Ramsammy said he was hurrying back to Guyana to meet a team of interested investors from Trinidad, led by that country's minister of agriculture. They will work on details of allocating land for agricultural purposes. (GC)
- See more at: