Bussiness Mirror| 13 November 2016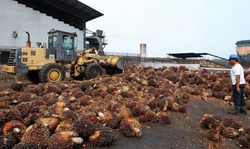 A loader piles up harvested oil-palm fruit outside the processing mill at the Bell Eco Power Sdn. palm-oil operations in Batu Pahat, Johor, Malaysia. Photo: Goh Seng Chong/Bloomberg
PHL, Malaysia eye cooperation in agribusiness
The Philippines and Malaysia are gearing up for closer economic cooperation, hinting at significant joint projects in the area of agribusiness, specifically in palm oil and natural rubber.
Trade Secretary Ramon M. Lopez said in a news briefing in Kuala Lumpur that meetings with his counterpart, Malaysian Minister of International Trade and Industry Datuk Seri Mustapa Mohamed, and the Malaysian Philippines Business Council have led to common interests being identified.
"[The meetings] show that these companies are willing to put a stake in the current administration in terms of supporting the development goals in infrastructure and agribusiness," Lopez said.
"In agribusiness, there's a potential palm-oil project, wherein the harvest and the output will go back to Malaysia as exports and for further processing into palm-oil areas in Mindanao and Palawan," he added.
Lopez said the Malaysian proponent of the project is keen on tapping 200 to 300 hectares of land for the palm-oil plantation. He added that the project is purely a private-sector undertaking.
Aside from agribusiness, two Malaysian companies are also keen on building a $1-billion light-rail transit project to run from Diliman, Quezon City, to Quiapo, Manila.
While he refused to provide more details on the project, Lopez said the interested parties will still conduct studies on the proposal and the bidding process would still have to be threshed out by the government.
Much like the Philippines's agenda with Brunei Darussalam, the untapped halal industry would be another possible area of cooperation, as well as strengthening the trade via the the Brunei Darussalam-Indonesia-Malaysia-Philippines East Asean Growth Area.
"Halal, just like in Brunei, is strong in Malaysia and so we want to know the best practices and maximize the halal industry, which is $2 trillion in the world. So these are areas for now that we are looking at," Lopez said.
Earlier, President Duterte said he plans to strengthen ties with the country's Asian neighbors. Since assuming office, the President has embarked on state visits to Brunei, China, Japan and Malaysia.