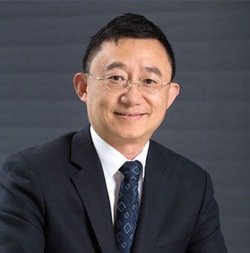 Milk NZ managing director Terry Lee
NBR | 30 October 2016
Chinese dairy investor faces hurdles to develop NZ dairy factory
by TINA MORRISON
Milk NZ, the local unit of Chinese investor Shanghai PengXin Group, is facing new hurdles with its New Zealand investment plans after being knocked back by the government last year over its proposed $88 million purchase of Lochinver farm.
The company owns 29 farms in New Zealand, including the former Crafar family-owned dairy farms in the North Island, and 13 farms in Canterbury previously owned by Synlait Farms, which supply processor Synlait Milk. In September last year the government scuttled its proposed purchase of Lochinver farm saying the transaction failed the test of providing a substantial benefit to New Zealand, and the Chinese investor subsequently withdrew from buying the neighbouring Taharua Farm and a separate deal to buy the so-called 'Pinny' farms in Northland.
The knock back riled the company, which disputes the value assumptions and conclusions made by economist John Small in assessing the value of the investment under the so-called counterfactual test on whether ownership by the overseas company brought any extra benefit.
The company's Chinese owners say the progress it is making with its New Zealand development plans is too slow but New Zealand viewed it as moving too fast, Milk NZ managing director Terry Lee told a conference on Chinese Agriculture at Victoria University in Wellington.
Milk NZ is now struggling to progress plans for a $50 million investment in a local processing plant to produce a long-life yoghurt for the Chinese market as it hasn't been able to find a local investor to meet overseas investment requirements that limit its stake to no more than 50%.
That kind of drinking yoghurt is popular in China but Milk NZ has struggled to find a New Zealand partner to build the new facilities, Mr Lee told BusinessDesk on the sidelines of the conference.
Milk NZ wanted to work closely with local partners to add value to the New Zealand dairy value chain "because we think it is a big waste to make commodity product from the world-best quality raw milk in New Zealand," he said.
However, Mr Lee said the company has been rebuffed by nearly all of New Zealand's dairy processors and has applied to the Overseas Investment Office for a rule revision that would allow it to develop the factory on its own, with limitations on the amount of milk it would take, such as an agreement to process only 5% of the milk production in the North Island and South Island, or process no more than 50% of the milk produced on its own farms.
Having a factory would enable the company to try its business model and add value to the supply chain, he said.
"This is good for New Zealanders and good for Chinese consumers as well. This is a 'win win' case – I can't find who is the winner by the OIO conditions," he said.
However, Mr Lee said the request had been with the OIO for 13 months and was still awaiting a reply.
"The timeframe is very disappointing," Mr Lee said. "When we were rejected for (the) Lochinver application, (the) Prime Minister said that 17 months OIO processing is not acceptable but after that we got approval of application of the Dakang (company) reconstructure 22 months after the application was lodged, so another record was broken, so I hope this time we should not wait longer than that again."
Milk NZ has expressed its concerns to ministers, Mr Lee said.
He said he felt the company is being unfairly treated because it is a Chinese investor, while investors from Europe, America and Canada were able to buy farms without a long processing time, without the same counterfactual test, and without restrictions on building a dairy processing plant on their own.
A hundred years ago Chinese came to New Zealand as cheap labour; 30 years ago Chinese people exported cheap products such as toys, clothes, and shoes to the country; and in recent years China has become an investor and export of capital, he said.
Lee said the Chinese company needed to be patient for progress on New Zealanders better understanding its operation, values, and contribution to New Zealand dairy and agriculture as its investment could turn out to be a "success story."
There was a lack of understanding about the mutual benefits the Chinese investor could bring to the New Zealand dairy industry, he said.
"New Zealand think dairy is the base of the economy and we need to protect it in a special way so foreign ownership and especially foreign integrated business model will make some change to our dairy," he said.
However from PengXin's point of view, it brought beneficial change, he said, particularly thinking outside the box to help industry follow the latest trends in the value chain. He also dismissed concerns about over-reliance on the China market.
"My answer is if you change your commodity business model into a consumer business model then people from all over the world will use the dairy products from New Zealand, not only China, not Indonesia for the commodity like whole milk powders. I think this is the future."
After being rejected in its earlier plans for acquiring more farms, Milk NZ has turned its focus to investing more in the farms it already owns to contribute to the industry, raising the standards for environmental protection, health and safety, and animal welfare, he said.
While New Zealand has a good legal system and is a good destination for dairy investment, Lee said it was "still on the way to making these systems working well."