Phnom Penh Post| 18 October 2016

Ethnic minority families claim violent evictions in Preah Vihear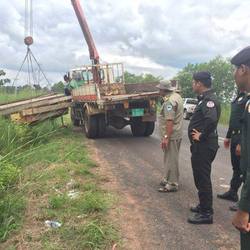 Authorities watch as wooden pillars are loaded onto a truck last week in Preah Vihear province after structures were dismantled and removed from Prame commune. Photo: Sahakkum Prame
Six ethnic Kuoy families were violently evicted from their homes in Preah Vihear over the weekend, according to eyewitnesses, with further evictions threatened for another 13 families this morning.
Boeng Choen, 44, was ploughing her rice field in Tbeng Meanchey district's Brame commune on Saturday when a neighbour called to say uniformed men were tearing down her house. Attempting to return home in a truck with 15 other villagers, she found the way blocked by 25 police, military police and provincial Forestry Administration (FA) officials, she said yesterday.
Provincial Governor Oun Chenda said yesterday that the land on which Choen and five other families had built their homes belongs to neighbouring Chheb district and that all those evicted were squatters.
But Choen, who claims no prior notice was given of the evictions, said she and her family have been living on the land since 1995. Yesterday, she showed reporters a copy of a document dated 2007 and thumbprinted by a former Brame commune chief saying the land belonged to her family.
Current Brame commune chief Meach Sarng said yesterday that there are 19 families facing eviction in the commune, all of them with proper documentation of their land. However, Choen said that when she presented her documents to officials on Saturday, they dismissed them as "invalid".
Photos taken on Saturday show timber being taken from the demolished home and loaded onto a truck with state licence plates under the observation of military and FA officials.
When she was eventually allowed back to the land her home used to stand on, Choen was joined by her sister, Khom Rany, 26. Rany said yesterday that she had begun to take photos of the wreckage on her phone but a scuffle ensued during which officials led by provincial FA chief Ith Phomara punched her and confiscated her phone.
Phomara did not respond to requests for comment, but Chenda, the provincial governor, denied a confrontation took place.
"Our people, provincial Forestry Administration officials and others told them not to take any photos or videos," Chenda said without explaining why photographing the area had been disallowed. "They kept filming and taking photos, so we just took their phone. We didn't fight, we just got their phones."
Caoung Phea, a project officer with the Cambodia Indigenous Peoples Organisation (CIPO), yesterday described Saturday's events as both a human rights abuse and criminal assault, for which the community intends to file complaints with the provincial court and the Cambodian Human Rights Committee.
The remaining 13 families were told they had three days to leave or be similarly evicted. Phea said CIPO intends to file petitions today with UN Special Rapporteur Rhona Smith, the Ministry of Land Management and the Agriculture Ministry.
Additional reporting by Jack Davies