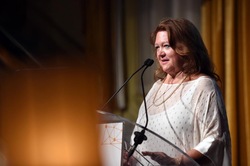 Photo by Carla Gottgens/Bloomberg
Bloomberg | 10 October 2016
Billionaire Rinehart strikes deal to buy iconic Aussie Ranch
By Edward Johnson
Billionaire Gina Rinehart and a minority Chinese partner agreed to buy Australia's most iconic cattle company in a deal valued at about A$365 million ($277 million).
Rinehart's Hancock Prospecting Pty and Shanghai CRED Real Estate Stock Co. reached an accord to buy 100 percent of S. Kidman & Co., the companies said in a statement Sunday. The deal requires approval from Chinese regulators and Australia's Foreign Investment Review Board, which last year blocked the sale of Kidman to an overseas buyer on grounds of national security.
The quality of Kidman's herd and its stations "complement Hancock's existing northern cattle properties, and align well with Mrs. Rinehart's plans to build a diversified cattle holding in Australia," Hancock Chief Executive Officer Garry Korte said in the statement.
Founded in 1899 by so-called Cattle King Sidney Kidman, the company's ranches span 101,000 square kilometers (39,000 square miles), or about 1.3 percent of Australia's total land area, and carry about 185,000 cattle. The family-owned enterprise produces grass-fed beef for export to Japan, the U.S. and Southeast Asia.
Failed bidder
The Foreign Investment Review Board in November blocked the sale of Kidman to China's Shanghai Pengxin Group, saying the proximity of the Anna Creek ranch to a weapons-testing range could compromise national security.
In response, Kidman carved out the Anna Creek property and Shanghai Pengxin teamed up with local investment group Australian Rural Capital Ltd. in April to dilute Chinese ownership to 80 percent. That proposal was also blocked.
ARC Chairman James Jackson said Monday the group was reviewing Rinehart's deal with Kidman. "We are not in a position to comment further at present," he said by phone.
Sale Conditions
Under the agreement announced Sunday, Kidman would be purchased by a venture called Australian Outback Beef Pty., 67 percent owned by Hancock and 33 percent by Shanghai CRED. The privately-held Chinese firm was part of the April bidding group that was blocked.
The deal is conditional on Kidman divesting the Anna Creek and the Peake stations to other Australian grazing interests -- reducing the net price paid for the remaining Kidman ranches to about A$365 million, the statement said.
Kidman Chairman John Crosby said the cattle company's shareholders welcomed the purchase price and "significant investment" proposed in the properties.
Chinese investment in Australian agriculture is often publicly opposed, even though the industry needs foreign capital to fully tap export demand.
"I always welcome seeing Australian investment in Australian agriculture, as I believe all Australians do, " Prime Minister Malcolm Turnbull told reporters Monday.