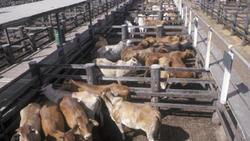 Un élevage de bovins, dans l'Etat du Queensland, en Australie. Getty Images
RFI | 10 octobre 2016
Les Chinois tentent à nouveau d'acheter des terres en Australie
Par Claire Fages
Le groupe chinois Shanghai Cred s'associe au puissant groupe minier australien Hancock pour parvenir à ses fins : acheter le premier propriétaire foncier d'Australie, Kidman and Co.
C'est la troisième fois qu'un groupe chinois tente d'acheter Kidman and Co. Un empire agricole fondé à la fin du XIXe siècle par Sydney Kidman, un lointain ancêtre de la star hollywoodienne, surnommé en Australie le Roi du bétail. Kidman and Co possède aujourd'hui des terres et des pâturages sur plus de 70 000 km2, la superficie de la Sierra Leone. Et pas moins de 185 000 têtes de bétail, surtout des bovins.
Par deux fois les autorités australiennes se sont opposées à l'acquisition par un groupe de ce mastodonte agricole australien, 2,5 % de la surface agricole du pays, par un groupe chinois. L'opinion australienne était inquiète. Canberra prétextait que l'achat de Kidman par un groupe étranger menaçait la sécurité nationale, un des ranches mordant sur la zone militaire de Woomera. Mais ce ranch a été retiré de la transaction. Plus grand-chose ne s'oppose désormais au feu vert des autorités, d'autant que le promoteur immobilier chinois Shanghai CRED a trouvé un allié dans la place.
Une alliée, la « dame du fer » australien. La milliardaire Gina Rinehart veut diversifier l'activité de son empire minier, qui a souffert de l'effondrement des prix du fer et du charbon, et elle investit à tour de bras dans l'agriculture. Son groupe Hancock, achèterait les deux tiers de l'empire foncier Kidman and Co, le groupe chinois n'en contrôlerait qu'un tiers. Un montage plus rassurant, peut-être, pour l'opinion australienne.
Ecouter le reportage :