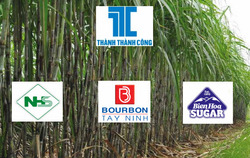 Acquisition of HAGL's 6,000 ha sucar cane plantation in Laos seen as a way for TTC to deal with low priced imports generated by the entry into force of the ASEAN Economic Community.
VietNamNet Bridge | 4 October 2016
Large M&A deal could change Vietnam's sugar industry
Hoang Anh Gia Lai Group (HAGL) has finally confirmed that it is negotiating with Thanh Thanh Cong (TTC) on the transfer of its sugar mill in Laos to TTC. As both of them are giants in their field, the deal is expected to lead to big changes in the industry.
TTC is known as the leading company in the sugar industry as it holds the controlling stake in many large sugar companies, including Thanh Thanh Cong Tay Ninh (SBT), Gia Lai Hydropower Sugar (SEC), Bien Hoa (BHS), Ninh Hoa (NHS) and Phan Rang Sugar Company.
In the latest move, TTC has merged SEC with SBT and NHS with BHS, while analysts predicted that BHS and SBT would merge in the future. TTC will still own the advantages which SBT and BHS have – advanced technology, experienced staff, strong brands and a large retail network.
BHS is praised for its diverse products and is the only Vietnamese company which owns a sugar refinery line from Japan. Therefore, BHS sugar has high quality and it is always sold at prices higher than products of other companies.
TTC has also increased its investments in other sugar companies, such as Duong Nuoc Trong, Bourbon An Hoa, Duong La Nga and Duong 333 in an ambitious plan to strengthen its No 1 position in the industry.
According to AgroMonitor, TTC is leading the industry with 17.2 percent of the market. The figure could be up to 27 percent of only considering the southern market.
However, the position has been threatened by imports. As Vietnam joined the ASEAN Economic Community late last year, the import tariff on sugar products from ASEAN has been cut to five percent and will be further cut to zero percent after 2018.
This has raised a big concern for Vietnam's sugar industry, which, as committed by the Vietnam Sugar Cane and Sugar Association (VSSA), has weak competitiveness. VSSA has recently sent a dispatch to the Ministry of Finance asking to continue protecting the sugar industry.
Vietnam's sugar proves to be less competitive than imports because of the high production cost. While it costs $375 to make one ton of sugar in Thailand, the figure is $518 per ton in Vietnam, according to OECD Stat.
Therefore, the urgent task for sugar companies is to cut the production. And this depends on their capability of acquiring companies with large material growing areas and bringing high-yield sugarcane to Vietnam.
The purchase of HAGL's sugar mill is TTC's step in realizing the strategy. HAGL has 6,000 hectares of sugarcane in Laos, with favorable conditions which allow yields of 120 tons per hectare.