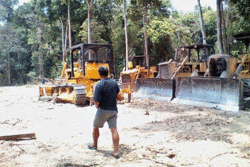 A Lao villager walks by bulldozers belonging to a Chinese-backed company that is clearing land to build cattle farms in Champhone district of Savannakhet province in southern Laos, June 2016. (Photo: RFA)
RFA | 20 September 2016

Lao government promises over land are met with suspicion
A senior Lao official's request to villagers and others affected by land grabs to bring their cases to government attention for redress is being met with suspicion, with civil society workers voicing doubts that much will now change.
"We realize that the public has been very critical of our handling of land issues," Anothai Chanthalangsy, deputy director of the Land Department of Ministry of Natural Resources and Environment, said in a Laopost newswire on Sept. 15.
"And we have seen that some of these cases have become controversial," he added.
Land policy and management in Laos is often poorly understood, Anothai said, "But on the other hand, some land officials abuse their powers in situations involving conflicts of interest."
"To solve these problems, we are asking the public and other departments to help by watching and monitoring these corrupt officials."
"Please inform us of any corrupt behavior you see by contacting our ministry, our department, or provincial authorities respectively by telephone or letter," Anothai said.
Civil society workers inside and outside the one-party communist state say however that government invitations to the public to complain are nothing new.
"I have seen the government welcome public comments and complaints for many years, but so far there has been no strong mechanism in the government or national assembly to create solutions," one CSO worker in Laos told RFA's Lao Service, speaking on condition of anonymity.
"Villagers whose land was seized years ago have still not been compensated," the worker said.
"They have submitted their complaints to the prime minister's office and to the national assembly for many years, but I haven't seen any land-conflict cases resolved in practice," he said.
Leaders, officials go free
Speaking separately, Vanida S. Thepsouvanh—chairwoman of the Paris-based Lao Movement for Human Rights—said that land issues in Laos "have always been linked with corruption."
"To this day, only unimportant public servants have been arrested for corruption, while everyone in the country knows that many high-level leaders and officials who are deeply involved in corruption are left unaffected and remain above all kinds of investigation."
"The government's commitment to end corruption, illegal logging, large-scale land leasing and concessions, and land grabs still needs to be proved and implemented at all levels," she said.
"Laos cannot advance without transparent governance, the rule of law, freedom of expression, and a real space for civil society."
Laos's Ministry of Natural Resources and Environment has estimated that government officials have given more than one million hectares of the country's total land area of 23.7 million hectares (58.6 million acres) as concessions to foreign investors, excluding land for mining and hydropower projects.
Some local residents who oppose land grabs or the appropriation of public property to turn over to foreign and domestic companies have refused to speak out publicly because they fear retribution.
In June 2015, a government employee in Luang Prabang province was detained for posting online a "confidential document" about a land concession granted to Chinese investors seeking to develop an area around the Khouangxi waterfalls, a popular tourist attraction.
Reported and translated by Ounkeo Souksavanh for RFA's Lao Service. Written in English by Richard Finney.