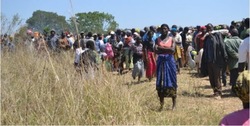 The Peoples Land Organisation (PLO) of Malawi seeks the local people's occupation of all idle tea estates land, as well as reparations for the years since 1914 that estates owners occupied the lands and engaged in bonded labour practices.
Nyasa Times | 2 September 2016
16 arrested in Malawi tea estate land grab: Thyolo villagers occupy Comforzi Estate
by Green Muheya

Hundreds of people carrying hoes, pots and beddings stormed Conforzi Tea Estate in Thyolo to grab land which they claim was grabbed from their forefathers by the tea estate owners but police arrested 16 people and fired teargas to disperse the villagers.
Police picked 16 leaders of the Peoples Land Organisation (PLO), a grouping of community members from Thyolo District advocating for land redistribution especially tea estates them to the District Commissioner's office for further negotiations.
But they were taken to Chilomoni Police Unit in Blantyre where they were put under arrest and charged of 'conduct likely to cause breach of peace.'
Vincent Wandale president of PLO, who declared Thyolo and Mulanje an independent state calling it the 'United States of Mulanje and Thyolo' was not among the 16 PLO officials arrested.
They included his vice president, ten women and six men.
Wandale had goiven government up to September 1 2016 to resolve the land issue and warned that they will start the redistribution exercise themselves.
Lawyer Jai Banda has been hired by PLO to defend them.
" It is not like we are just doing things out of ignorance, we know our rights, why are they treating us like criminals?" said Wandale.
The PLO has been agitating for the local people's occupation of all idle tea estates land in the districts since its establishment in 2009 and has been demanding that estates owners pay £65 (about K53 000) per acre per year for all used colonial estate land from 1914 to date.
The organisation has also been demanding from the estates owners a wage rate of £6.13 per hour (about K5 000) per individual for those who were involved in Thangata (bonded labour) between 1914 and 1963.