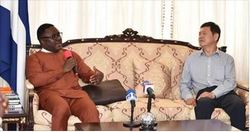 Governor Ben Ayade of Cross River, Nigeria and Yongsheng Cao, Chairman of Chinese firm Wuhan Longfecund Agricultural Development Company Limited.
Today | 25 August 2016
Chinese firm to establish $8m feed mill, maize farm in Cross River

by Patrick Adoga

In pursuance of Federal Government's diversification goal, a Chinese firm, Wuhan Longfecund Agricultural Development Company Ltd., has concluded plans to set up a feed mill and maize farm in Cross River State.

Chairman of the Company, Yongsheng Cao, disclosed this during a courtesy call on the governor, Professor Ben Ayade, at the Government House, Calabar.

Cao, who spoke through an interpreter said: "I am happy to be in Calabar and indeed, Nigeria, to set up a feedmill and a maize farm. Cross River State and China share same topography and land fit for such production."

Explaining that Wuhan province has the largest farm and a major maize grower in China, the Chairman said the company's preference will be on sweet corn as it is going to grow well in the state.

He applauded the existing relationship between Cross River and China, pointing out that he would invest $8 million in the project before extending it, to other parts of the country.
In his remarks, Governor Ayade, who urged the Chinese firm to swing into action with the establishment of the maize farm said: "Cross River State is expanding the horizon in agriculture and taking a leap into agricultural phase to ensure a leading direction," adding that, "we don't come in as traditional farmers but industrial standard and as the benchmark."

The governor explained that as government, "we must focus on maize because other than producing feeds, one of the particular species we are going to grow here which is sweet corn, is to provide Gluck syrup."

According to Ayade, "what you will see here is a true reproduction of the true history of the natural wealth that Nigeria has in agriculture as we are going to have maize for export, sweet corn for salads, Gluck syrup for our industries and the feed mills to produce feeds for our poultry and other related products."

Affirming that parts of Akamkpa, Uyanga, Obubra and Yala were suitable areas for maize farming based on soil studies earlier conducted, Ayade reasoned that "the partnership between the Cross River State government and the maize centre in China will provide the state with a first class knowledge, first class technology, first class farming and first class mill, as all sweet corns used in our salads were imported."