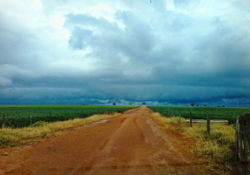 The state of Piaui, Brazil has been targeted as the next frontier for large-scale agriculture investment with a University of California researcher saying land possession in the state is often still decided by the "law of the gun".
Reuters | 16 August 2016
In Brazil's 'Wild West' a young prosecutor takes on corrupt land deals
By Chris Arsenault
RIO DE JANEIRO (Thomson Reuters Foundation) - In a poor corner of remote northeastern Brazil often viewed as the country's 'Wild West', a young state prosecutor is chalking up wins in the fight to stop corrupt land deals.
The state of Piaui has been targeted as the next frontier for large-scale agriculture investment with a University of California researcher saying land possession in the state is often still decided by the "law of the gun".
Francisco Rodrigues Santiago, the local prosecutor, wants to clean up his state's reputation as a place for shady deals.
For while investment in agriculture is important and can boost food production and reduce poverty, say experts, Brazil's land acquisition system is vulnerable to abuse with many competing land registries and unclear property titles.
Last month Santiago and fellow prosecutors won a landmark case to block the acquisition of a Los Angeles-size swathe of territory he described as an "illegal land grab" and he is now working on laying charges against some of the 14 people involved in the 124,000 hectare deal.
"It's important to investigate these cases because the land is rich in Piaui but the people face poverty: it's very unfair," Santiago, 35, told the Thomson Reuters Foundation.
State officials have pledged to step up prosecutions targeting cases of "grilagem", a Brazilian term for land scams.
"Since the 1990s, this problem of grilagem has intensified," he said. "We are trying to diminish this practice. The grilleros do not produce food; they're speculators."
WHOSE LAND IS IT ANYWAYS?
In a bid to kick-start economic growth in the recession hit-country, Brazil's interim government is planning to make it easier for foreigners to buy farmland.
But the prosecutor said he is not currently investigating any foreign firms for unlawful land deals.
However the job of stopping fraud in rural Brazil isn't easy, analysts said.
"There is not a single, unified map which definitively shows ownership rights to each parcel of land," said Malcolm Childress, a former World Bank official who now co-directs the Land Alliance, a Washington D.C.-based research group.
"Without a unified map, there is a great space for ambiguity and fraud," Childress told the Thomson Reuters Foundation.
Land can be registered by local notaries, he said, while federal agricultural agencies hold a separate set of title deeds and tax authorities have a third set.
"The key weakness from a governance standpoint is that those registries are not integrated and there is no final word," he said.
This means prosecutors need to unpack each land claim to try to understand its legality which is a time consuming process, said the former World Bank official.
More than 20 percent of the land in Brazil, South America's largest country, doesn't have an official owner, according to government data cited by the Climate Policy Initiative research group.
"We don't even know who really owns some of these lands (where the unlawful deals occurred)," Santiago said.
This lack of data makes it harder for officials to tackle corrupt deals, although Brazilian government agencies have pledged to improve rural land titling for small farmers.
INSIDE A RURAL SCAM
Prosecutors began investigating the Los Angles-sized land deal in December 2015 following complaints from Piaui residents, Santiago said.
Speculators used notaries - a type of lawyer responsible for officially approving documents - to register plots of land under their own names or the names of shell companies, Santiago said.
Local land offices in rural states, and some notaries, can be key initial players in the manipulation of documents to illegally claim swathes of land, he said.
The investigation identified irregularities on the public registries that breached the law, the prosecutor said, although it remains unclear if the registry officials themselves will face charges or other sanctions.
Court documents viewed by the Thomson Reuters Foundation show that a part of the deal involved registering land in the name of a dead man.
Childress noted the government's authority has been historically weaker in Brazil's northeast when it came to regulating land compared to wealthier areas in southern Brazil.
"This region has parallels with the Wild West but updated for the 21st century," Childress said.
"You have big capital and big technology capable of quickly converting landscapes, with all the pros and cons associated with that."
(Reporting By Chris Arsenault, Editing by Paola Totaro; Please credit the Thomson Reuters Foundation, the charitable arm of Thomson Reuters, that covers humanitarian news, women's rights, trafficking and climate change. Visit news.trust.org)