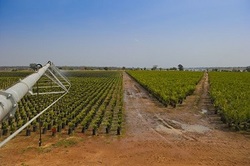 The deal will hand the UK government's development agency a 17.5% stake in Zambeef, which is pursuing Zambia's
first oil palm plantation
on over 20,000 ha.
Agrimoney | 4 August 2016
Zambeef shares soar more than 50%, on $65m CDC investment
Shares in Zambeef soared by more than 50% after the corn-to-retail group unveiled a $65m injection from the Commonwealth Development Corporation, in a deal deemed "transformational" and "extremely significant" by brokers.
Zambeef stock soared 58% to a 10-month high of 12.65p in early deals in London, before easing back to stand at 11.95p, a gain of 47%, in midday trading.
The gains followed the group's announcement that the Commonwealth Development Corporation (CDC)- a $5bn development agency, backed by the UK government, for emerging market businesses – had agreed to invest $65bn in Zambeef in return for a mixture of ordinary and preference shares.
The purchase of the, newly issued, shares will hand CDC a 17.5% stake of Zambeef's ordinary stock, but a 34.9% share of voting rights.
'Truly transformational'
The investment, termed "truly transformational" by a person familiar with the Zambian-based company, follows months of uncertainty provoked first by the devaluation of the kwacha, which inflated the burden from dollar-denominated debt, and secondly by a request by RCL Foods to be bought out of poultry joint ventures.
RCL Foods, the South Africa-based peanut butter-to-poultry supplier, in March gave notice that it was exercising put options forcing Zambeef to buy it out of the Zam Chick and Zamhatch tie-ups.
It had been assumed that Zambeef would be forced to meet the $23.4m cost of deal through issuing RCL new shares – a move which would have given the South African group a 48% stake, and in essence handed over control.
However, the CDC funds will allow Zambeef to pay off RCL in cash, besides refinance $38m in debt, and free up the group's cash for accelerating its own growth plans.
'Significant step forward'
"This is a significant step forward for our company and we are now in a stronger position than ever going forward," said Jacob Mwanza, the Zambeef chairman, adding that "we look forward to delivering healthy shareholder returns over the years ahead".
Dr Mwanza added that Zambeef had "a longstanding relationship" with CDC, which in turn has a "long history of making successful investments in our country, including plenty within the agricultural and food sectors".
CDC has also invested in Zambian agriculture through deals with the likes of SilverStreet Capital's farming arm, Silverlands Ranching, which has made a series of agricultural investments in the country.
CDC - for which the Zambeef injection represents a significant, although not unprecedented, investment – told Agrimoney.com it would likely be commenting on the deal next month, once it had been fully signed off.
Broker comment
At broker VSA Capital, analyst Ed Hugo said that the deal was "extremely significant" for Zambeef, in resolving an RCL Foods issue which "has been weighing on investor sentiment, and its share price", besides bringing the "very positive" outcome of the dollar debt refinancing.
The transaction had lifted "considerable uncertainty" from the shares, Mr Hugo said, adding that "material upgrades to consensus forecasts [for Zambeef profits are] likely due to a reduction in future interest payments".
At FinnCap, Raymond Greaves said that the "transformational" deal "could be the trigger that allows the shares to re-rate".
The investment from CDC represented "high quality solution" to what he been a "tough problem" in RCL's request to be paid out of the poultry tie-ups.