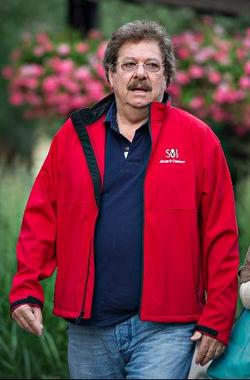 Anadolu Etap is a joint venture between the Turkish companies Anadolu Group and Özgörkey Holding and the Cutrale Group, owned by one of Brazil's largest orange and soybean farming families. The company has 6 different farms covering 2.500 ha in Turkey. Jose Luis Cutrale (above), known in Brazil as "Orange King", is listed by Forbes as the world's 688th richest person, with a net worth of $2.5 billion.
EBRD | 22 July 2016
€50 million loan for Turkish fruit and juice company Anadolu Etap
By Olga Rosca
The European Bank for Reconstruction and Development (EBRD) is providing a six-year €50 million loan to the Turkish fruit and juice company Anadolu Etap, an investment that will raise skill levels and expertise in the Turkish farming industry, support the expansion of a domestic fruit processor, while also promoting rural development and gender equality.
Anadolu Etap is active in fruit farming; the production of fruit juice concentrates and purees; and the sale and distribution of fresh fruits.
A joint venture of three strong players, namely the Anadolu Group, Özgörkey Holding and Cutrale Group, the company has a vision of becoming one of the leading fruit juice and fresh fruit companies in Europe and growing healthy fruit for healthy generations.
The EBRD loan will finance investments in new fruit farms and the acquisition of high-tech machinery and equipment, including for fruit processing. It will also fund investments to expand existing processing facilities, the development of packing facilities and the creation of the first new fruit brand in Turkey, Doal, and investing in the development of the domestic fruit market.
"With this investment we are supporting Turkey's farming industry, helping to improve competitiveness in the private sector, promoting good corporate governance standards and working towards greater gender equality in the Turkish economy," said the EBRD Director for Turkey, Jean-Patrick Marquet.
"We are confirming and strengthening our belief in the Turkish economy and agricultural industry with this loan and we will confidently advance towards achieving our goals," added Demir Şarman, CEO of Anadolu Etap.
A key benefit of the EBRD's investment is to accelerate the expected transfer of skills to farmers as part of a technical assistance programme that supports the company's efforts to secure a sustainable, high-quality supply of raw materials.
Training opportunities are being provided to farmers, with a special focus on raising the skill levels of female farmers.
The project will also help Anadolu Etap to become a benchmark in the industry for corporate governance standards, building on current practices that already go beyond local specifications and meet international requirements.
By strengthening a local private sector company and raising skill levels in Turkey, the EBRD is contributing to the resilience of the Turkish economy, one of the Bank's key strategic priorities in its commitment to the transition process in the regions where it works.
The EBRD started investing in Turkey in 2009 and currently operates from offices in Istanbul, Ankara and Gaziantep. To date, the Bank has invested over €7 billion in the country through more than 180 projects in infrastructure, energy, agribusiness, industry and finance. It has also mobilised about €17 billion for these ventures from other sources of financing.
The EBRD's strategic priorities for the period 2016-2018 for its countries of operations are re-energising growth, strengthening regional integration and addressing global challenges.