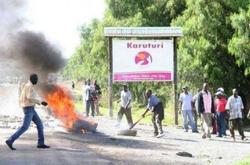 Former Karuturi farm workers demonstrating in Naivasha, Kenya. They have accused the company's management of ignoring an MoU signed in 2014 (Photo: Standardmedia.co.ke)
hivisasa | 8 Jun 2016
Karuturi ex-workers demonstrate over unpaid dues

By Luvembed Dennis
Transport along the Moi South-Naivasha road was temporarily paralyzed on Wednesday morning after former workers at Karuturi flower farm protested demanding they be paid.
The more than 200 former employees accused the company of failing to settle their dues before the company is taken over by a new management.
Waving placards and chanting slogans, they noted that the farms management had failed to stick to a Memorandum of Understanding (MoU) between the two parties.
"We were chased out of the company quarters and a majority of us have families. Its now two years and we are yet to receive any communication from the management, do they think we are feeding on stones?" Jared Oulo said.
"We have been subjected to very tough conditions with our families being forced to bare the brunt of abject poverty yet the company still holds our money. We are now tired of waiting," he added.
The workers called on both the national and county governments to intervene and have them paid their dues.
The flower farm was placed under receivership by the government in 2014 after incurring financial problems with employees going for more than four months without pay.