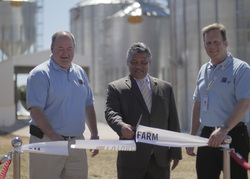 Zambia's Agriculture Minister Given Lubinda says his government has reserved 1 million hectares of land for investors (Photo: AGCO)
News Ghana | 29 May 2016
Zambia civil society groupings oppose plans to offer land to South African farming investors
A consortium of civil society organizations on Friday opposed plans by the government to give South African farming investors large tracks of land for agricultural purposes.
Over 24 South African farmers are in Zambia to hold talks with senior government officials on the possibility of investing in the country's agricultural sector.
On Thursday, Agriculture Minister Given Lubinda said the government has reserved 1 million hectares of land for investors in the sector and that it has since started receiving and processing applications from investors who had shown interest to invest in agriculture.

But the Zambia Alliance for Agro-ecology and Biodiversity Conservation, a coalition of 20 civil society organizations, has opposed the decision to auction land to foreigners, saying it will deprive small-scale farmers.
"We oppose the invitation and further presence of South African commercial farmer group in Zambia. We object to their audience with our president and the manner in which Zambia's land and agricultural sector is being portrayed as up for export to the highest foreign bidder," a statement seen by Xinhua said.
According to the statement, the national strategy of consolidating smaller areas of land into large scale commercial units and farm blocks has the potential to increase conflicts, adding that land access was a significant issue for small scale farmers in Zambia.
The coalition has since asked the government to demonstrate leadership by protecting small-scale farmers in the country, adding that small-scale farmers have demonstrated that they were able to produce enough food to feed Zambia and for exports if properly supported.