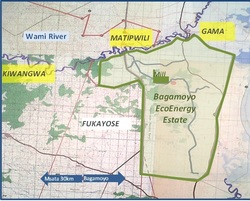 The Tanzanian government has announced that it is shelving the sugar project in Bagamoyo managed by Swedish company EcoEnergy.
The Citizen | 20 May 2016
Tanzania: Project axed to save wildlife
Dodoma — The Government has decided to shelf the Bagamoyo sugar plantation project in order to safeguard Wami River from which the project would draw its water.
Prime Minister Kassim Majaliwa told Parliament yesterday that the government reached the decision following an advice by a parliamentary committee which he did not name.
He said this in response to a question from Mr Freeman Mbowe, the leader of Official opposition in Parliament and Hai MP on a Chadema ticket during the Prime Minister's Question Time session.
The project was structured to maximise sugar and power production and production of ethanol.
Against the backdrop of the current sugar crisis in the country, Mr Mbowe wanted to know why the government has dragged its feet on supporting the envisaged Bagamoyo project which would have helped a lot to alleviate perennial sugar shortages in the country.
Premier Majaliwa noted that the decision to shelve the project was taken out of the compelling need to protect the Saadani National Park, which also borders the area where the project was to be implemented.