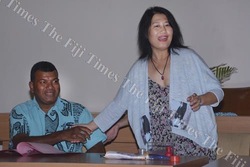 Lautoka City Council CEO Jone Nakauvadra with Lily Li from Qingdao City of China after signing the MOU in Lautoka yesterday. (Photo: BALJEET SINGH)
Fiji Times | 1 May 2016
Chinese investors look into agriculture potential

by Repeka Nasiko
THE Chamber of Commerce and Industry of Qingdao in China is looking into Fiji's agriculture sector as a potential area of investment.
The group from Qingdao City arrived in the country earlier this week and have been scouting agriculture-based farms in Lautoka.
Chamber investigator of economics officer Li Wei said there was great potential in Fiji's agriculture that could specifically cater for the Chinese market.
"We want to plant noni because we have a large market in China," she said.
"We believe that Fiji has the right conditions for noni so we want to encourage Chinese businesses to invest in the planting of noni to produce a variety of by-products.
"The second agriculture-based investment that we are also looking at is the production of Chinese medicine and herbs.
"We have a large market in traditional herbs so we want to be able to produce some of these herbs out of Fiji because it has the right conditions for some of the herbs."
She said the group was confident in finding other markets to invest in.
"Once we set up a branch in Fiji we will be able to organise the resources of the Chinese businesses to suit the resources available here.
"Fiji has many resources that we can take advantage of.
"By putting together our resources we believe that the two countries can both benefit from this partnership.
"With the right kind of investment put into the resources here in Fiji, we could be able to build a solid foundation for more economic growth."