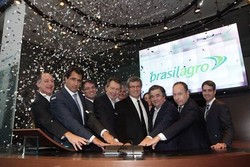 Agrimoney.com | 6 May 2016
Dry weather forces BrasilAgro to slash corn sowings

Dry weather forced BrasilAgro to sharply cut its soybean sowings this season, the land investment company said.
Brasilagro, which owns and operates farms in Brazil and Argentina, cut its soybean plantings by 20% in 2015-16, due to the drought across the corn and soybean belt, with to 23,800 hectares of soybeans planted.
"We reduced by 7,400 hectares the area initially estimated for soybean crop due to the drought during the planting period," BrasilAgro said.
Some 2,400 hectares of the lost area was sown with corn, with the rest going for cover crops.
Crop more than half hedged
BrasilAgro expects to produce 75,000 tonnes of soybeans this year, with 53% of this already hedged at a price of US$9/bushel, with the remainder to be sold on the spot market.
Land prices in Brazil's underdeveloped Northeast region continue to soar BrasilAgro said.
BrasilAgro owns over 100,000 hectares of land in Brazil, as well as leasing further properties, and owns a 50% share in 117,000 hectare property in Paraguay.
Land prices are up across Brazil, with prices in the Northeast up 7.5% over the past 12 month, BrasilAgro said.
Rising revenues
BrasilAgro has returned to profitability on significantly higher revenues from trading in the second quarter of its current financial year, according to its latest set of company figures.
BrasilAgro announced adjusted earnings before interest of of R$7.9m on revenues of R$32.87m in the three months to December 31 2015, compared to a loss of R$ 3.2m on sales of R$23.32m in the same period of the previous year.
"Despite the challenging period in the macroeconomic environment, we are well positioned to seize opportunities in the sector and achieve a position of even greater prominence in Brazil's agricultural sector," said BrasilAgro.