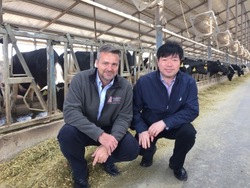 AustAsia's managing director Edgar Collins and China general manager Yang Ku.
Farm Weekly | 10 May 2016
Pack your bags to cash in on China's dairy demand
by SHAN GOODWIN

An Australian-led visionary agribusiness outfit is showing the best way to capitalise on the enormous potential of consumer demand for fresh dairy in China is to pack your bags.
Headed up by former Queenslander Edgar Collins, AustAsia has built five free stall dairy farms in the temperate environment northern Chinese province of Shandong, plus another in Inner Mongolia, to milk 30,000 Holsteins in total.
A seventh farm in Inner Mongolia is under construction, due to come online next year, along with a processing factory next to Farm Four.
All farms are a similar size - around 100 hectares with ten milking cow barns of 600 head per barn - and milk 5500 to 6000 four times a day on two 80-head fully automated rotary parlours. Each carry around 12000 head in total and have cropping area attached.
Cows are averaging 38 litres per day at 3.3 per cent protein and 3.8 to 4pc fat.
The majority of the milk is sold to the top four processors in China and goes to fresh yoghurt, the fastest growing dairy category in China.
However, AustAsia's factory, due to be up and running by the end of 2017, is expected to take half the milk production. It will also produce mostly yoghurt.
The total investment per farm has been around the $US80m mark, including the cost of importing around 35000 heifers from Australia, mostly out of Victoria, with a smaller number coming from New Zealand.
Most have been shipped by WA company Wellards.
In partnership with Indonesian agribusiness Japfa and Cargill's Black River, AustAsia, as a wholly foreign-owned investment on Chinese ground, had received a warm welcome from the Chinese Government, according to Mr Collins.
The managing director of AustAsia Investment Holdings, Mr Collins was born in New Guinea, moved to North Queensland where his family ran a dairy and was schooled in Sydney.
In 1991, he started buying feed commodities in Indonesia under the business Collins and Leahy and went on to build AustAsia's dairy business in Indonesia, which is today that country's market leader in fresh milk, sold under the Greenfields brand.
A total of 8000 cows are milked on one East Java farm with construction of a second now underway. A third of the Indonesian product is exported.
AustAsia employes 1700 in Indonesia and 1200 in China.
The China move, Mr Collins says, was in reaction to the melamine scare.
"We realised the potential was enormous, with a massive undersupply of dairy in a country with billions of people," he said.
The Chinese Government was 'hugely supportive' of anyone looking to build businesses in China, he said.
AustAsia's farms are on land leased for a 40-year term, and the governments have assisted with roads, power connection, irrigation infrastructure and helping to find the land, particularly what is needed for cropping.
"We deal with four tiers of government - shire council, county, city and provincial and all are very commercially-minded," Mr Collins said.
"They are about improving the economic position of their area, they want to drive industry.
"It's much easier to do business here than if you are a foreigner buying a farm in Australia.
"However, the Chinese Government's interest is in developing the Chinese dairy industry, not Australia's or New Zealand's - that's why you have to come to China."
AustAsia is now among the top ten Chinese dairy operations size-wise.
While expansion will be ongoing, Mr Collins said the golden era of Australia sending dairy heifers to China was finished.
"We are now producing around 1200 excess heifers on our farms so Farm Seven will be supplied by us," he said.
Cow comfort rules
FIRST-CLASS cow comfort is the focus at AustAsia's extensive dairy set-up in China.
"We're in the business of keeping cows happy - everything stems from that," managing director Edgar Collins said.
"The rotary parlour, first and foremost, is no-stress and easy on cows."
Each parlour milks around 5100 head in five hours and runs for 20 hours a day.
Each cow takes eight minutes and 20 seconds to milk.
It takes just one stockmen to bring the cows up from their barn stalls and they are moved onto the parlour via hydraulic gates.
Sand is used as bedding in the stalls and is cleaned when the cow goes out to milk.
Water spray keeps cows cools.
Heifer calves are raised in huts for 70 days, then moved to weaner barns.
Calving is year-round but managers minimise summer calving as much as possible. Temperatures in Shandong range from minus 15 degrees Celsius to 40.
The lock-ups in stalls mean cows don't have to be put in a crush for pregnancy testing and other procedures but rather stay in their normal setting.
Cows have 24-hour access to open areas.
"The US is the benchmark globally for this type of dairying and we have used their knowledge as a base," Mr Collins said.
"We're proud of the productivity of our farms - the key is feed, management and genetics."
Queenslander Troy Ziesemer, the operation's plantation manager, said most feed for rations is bought locally but alfalfa hay is sourced from the United States and oaten hay from South Australia.
Corn and sorghum is produced by AustAsia on adjoining cropland.
Last year, 70 to 80,000 tonnes of corn was ensiled in September.
Corn-derived silage is the main component of rations.
The deregulation of the China's corn industry last month is expected to bring AustAsia's cost down by as much as 10 per cent.
The farmgate milk price, currently at 3.8 Chinese renminbi or around 75 cents in Australian terms, has dropped from a peak of 5rmb but was still very profitable, Mr Collins said.
"The economy is suffering now but we believe in China in the long-term," he said.
"Consumers want fresh product and there are a lot of consumers. There is a big future here."