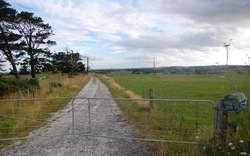 The processes of the Overseas Investment Office are proving to be a barrier to some companies looking to buy New Zealand land. (Photo: 123rf)
Radio NZ | 6 May 2016
OIO too slow for Chinese investors - lawyer
by Demelza Leslie

The Overseas Investment Office is causing some investors to shy away from New Zealand, the Auckland-based lawyer who runs Australasia's largest South-East Asian-focused firm says.
Arthur Loo, who represents several Chinese clients buying property in New Zealand, said the consent process was too expensive, cumbersome and slow.
When a Chinese-owned company, Shanghai Pengxin, tried to buy a large central North Island farm for $88 million in 2014, it took 18 months for it to be told by the OIO office its application had been declined.
The same firm was involved in another bid last year to buy 10 Northland farms for $42m, and pulled out of the purchase after the OIO took too long to process its application.
Mr Loo said foreign buyers were wary of the office.
"A Chinese buyer's got to show that they would do more for the property than a New Zealand buyer. [That] is something that is quite difficult to work around at the moment and I suggest it needs some attention."
He said Shanghai Pengxin spent more than $100,000 trying to buy Lochinver station near Taupo.
"What the potential buyer was saying was that if we are going to be turned down, can't we have a reasonably quick decision rather than make us wait nearly a year and a half, because it's just really wasting everybody's time and money."
During question time in Parliament on Thursday, Land Information Minister Louise Upston confirmed changes to the office.
"The government is planning to increase most OIO application fees to fund improvements for faster application screening by the OIO and more responsive monitoring and enforcement."
Louise Upston Land Information Minister Louise Upston Photo: SUPPLIED
Ms Upston said consent fees were being raised by between 8.7 and 166 percent.
She said the office had rejected 57 percent of consents this year.
Mr Loo said making it easier for Chinese to invest in New Zealand should be part of the planned upgrade to the 2008 China-New Zealand free trade agreement.
Prime Minister John Key said he had not considered whether the trade upgrade could include that, but it may well be something that China would ask for. It would be considered on its merits.
Mr Key said trade ministers from both countries would meet at an APEC meeting in Peru in a fortnight's time to discuss a possible trade upgrade.