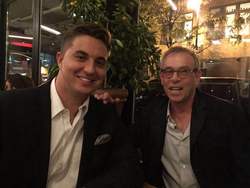 CEO of
Farmfolio
Dax Cooke and the produce advisor Greg Holtzman at Global AgInvesting. US-based Farmfolio's first offering is for shares in a cattle farm in Colombia.
Farmfolio | 4 May 2016
Farmfolio visits global agriculture conference
High Quest Productions gathered the greatest minds in Private Equity, Venture Capital, Wealth Management, and Agriculture Development together at the Waldorf Astoria in New York. Last week's panels provided a fantastic preview of what is on the horizon for agro-investment in 2016.
Several topics were discussed. However, several statements validated our hypothesis of the investment demand for South American agriculture investment. During one of the Venture Capital panels, a question was asked about the appetite for investment in Latin America. Amara Kukutai of Finister Ventures in Califonia answered the question by stating: "I would love to invest in Latin America, but I would like to do it through Delaware". This was repeated several times throughout the conference. Institutional investors want access to LATAM, but they want it through a Delaware entity that can leap all of the local financial logistics.
This is exactly what we wanted to hear!
We're bringing financial technology to the agriculture world like never before and last week's conference has confirmed that even large investors are looking for this type of access.