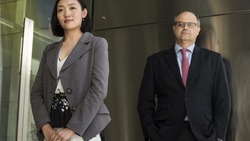 Private banker Susan Wang and Moelis Australia Asset Management managing director Andrew Martin. (Photo: Louie Douvis)
Australia Financial Review | 2 May 2016
Largest agricultural investment under new SIV rules backs IPO Mort & Co
by Matthew Cranston
The largest agricultural investment under the federal government's new significant investment visa (SIV) program has been made in the $174 million float candidate Mort & Co, which owns and operates Australia's biggest independent feedlot business.
The SIV program, which gives foreigners resident status in exchange for a $5 million investment, has resulted in about 1300 millionaires – more than 90 per cent of whom are Chinese – put more than $6.4 billion into Australia.
In July last year, the federal government changed the SIV rules to ensure that at least 40 per cent of each $5 million investment would be placed into venture capital and growth equity for smaller Australian companies.
Investment bank Moelis, which is handling the Mort & Co float, confirmed that a pre-IPO investment of $16.2 million had been made in the cattle company largely through the Moelis significant investment visa (SIV) venture capital fund. Wealthy individuals from China, Singapore and Australia have also participated.
Mort & Co has more than 10,000 hectares of prime cattle stations in Queensland and NSW, and is seeking to list on the Australian Securities Exchange next year.
Moelis Australia Asset Management managing director Andrew Martin said the SIV investment in Mort & Co reflected a successful foreign investment program.
"The SIV investment is only the start," Mr Martin said. "We remain confident that the new SIV rules will continue to attract successful business migrants with significant capital into Australia."
Newly appointed Moelis private banker Susan Wang, who was formerly with the world's largest bank, the Industrial and Commercial Bank of China, said part of the investment in Mort & Co came from wealthy foreigners outside the SIV program.
'Government's policy is working'
"We are particularly excited that the trust and network we have built under the SIV program in China has translated into capital flows into Australia from high net worth investors outside the SIV program," Ms Wang said.
"Investments outside the SIV program by SIV investors into businesses like Mort prove the government's policy is working."
Moelis executive director Enda Stankard, who participated in a recent roadshow in China, said the demand to invest in companies such as Mort & Co was profound.
"Our Chinese and Australian investors see Mort as providing an outstanding opportunity to capitalise on the rapid growth in demand for beef in China and elsewhere in Asia. They are believers in the Free Trade Agreement only accelerating this demand", Mr Stankard said.
Mort & Co, founded by Charlie Mort, owns the rural property and feedlot Grassdale at Dalby in southern Queensland, along with Pinegrove at Millmerran in southern Queensland and Gunnee at Delungra in NSW.
In February, Mr Mort said his intention to list on the ASX had been a long-term desire and that he was enthusiastic about demand for beef and rural property values.
Mr Mort and other existing owners and management will remain fully invested in the business and have not sold down their interests as part of the recent capital raising.
Amelia Hill, one of Moelis' managing directors, has taken a position on the Mort board before the company's IPO.
Follow us: @FinancialReview on Twitter | financialreview on Facebook