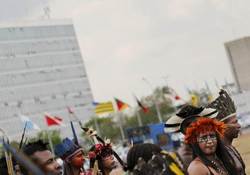 People of the Gamela nation march next to the Brazilian Congress during a demonstration to discuss issues of land demarcation and indigenous rights with authorities in Brasilia, Brazil, October 7, 2015. (Photo: REUTERS/Lunae Parracho)
Reuters | 29 April 2016
Brazil land activists facing 'increased intimidation' with six killings in 2016
by Chris Arsenault
RIO DE JANEIRO, April 29 (Thomson Reuters Foundation) - Land rights campaigners and environmentalists are facing growing violence and intimidation in Brazil, with at least six activists killed so far this year, a human rights group said.
The killings, tracked between January and February 2016, happened in three largely rural Brazilian states with a history of land conflicts: Rondônia, Maranhão, and Alagoas, the Inter-American Commission on Human Rights (IACHR) reported this week.
South America's largest country has some of the world's widest inequality in land distribution, according to a U.S. government report, with one percent of the population owning nearly half of the country's land.
A growing number of activists demanding land reform and rights for indigenous people are facing "an increase in acts of violence, repression and criminalization", the IACHR, that monitors human rights across the Americas, said in a statement.
The dead included Enilson Ribeiro dos Santos and Valdiro Chagas de Moura from the League of Poor Peasants and Edmilson Alves da Silva, leader of the Liberation Movement of the Landless.
"They were involved in the defense and promotion of land rights on behalf of farmworkers or landless peasants in the context of agrarian reform and strong tensions with landowners," IACHR said.
Two activists from the Landless Workers Movement were killed earlier this month in the state of Parana, following a police ambush, according to the Washington-based group, which is affiliated with the Organization of American States.
The IACHR urged Brazilian authorities to punish the killers along with the "intellectual authors" of the crimes.
Brazil's federal police, the official body tasked with investigating serious crimes, did not immediately respond to an emailed request for an interview.
Last year, 50 people died in conflict over rural land in Brazil, the IACHR reported, making it one of the world's most dangerous countries for land rights activists and environmentalists.
A fall in commodity prices and a government corruption scandal have helped to push Brazil into its worst recession since the 1930s, and opposition politicians are moving to impeach the president.