Khmer Times| 28 April 2016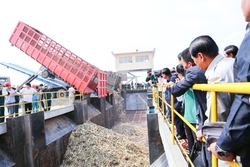 Prime Minister Hun Sen watches as the Rui Feng sugarcane plantation starts its operations. Photo: supplied
Sugarcane plantation blamed for water shortage
by Jonathan Cox and Tin Sokhavuth
When drought hit Preah Vihear in the past, farmers relied on wells and natural ponds as an emergency water supply.
But villagers told Khmer Times their wells have gone dry and analysts say it could be due in part to the land clearance and water consumption by the massive Rui Feng sugarcane plantation.
The $360 million Rui Feng sugarcane plantation and factory, which started production earlier this year, covers 40,000 hectares and employs thousands of staff, making it one of the largest sugarcane plantations in Asia.
Sugarcane is a thirsty crop – according to United Nations Water, it takes 1,500 liters of water to produce only one kilogram of processed cane sugar.
To prepare for the dry season, Rui Feng International excavated massive ponds capable of holding three million cubic meters of water. The plantation supplements this water stockpile with a network of wells that draw from Preah Vihear's groundwater.
"[The wells] will undoubtedly have an impact on the groundwater and water table within this area," said Alistair Mould, Northern Plains technical advisor for WCS.
Government officials said this year's catastrophic drought has forced the company to start using its wells to tap into groundwater.
"I heard about [Rui Feng] using groundwater for intervention during this dry period," said Sao Sopheap, a spokesman for the Ministry of Environment.
Rui Feng could not be reached for comment on the amount of well water being used.
If the plantation uses a large amount of groundwater, it could cause wells to dry out in neighboring farms and villages.
"Using excessive groundwater for the purpose of the plantation could decrease groundwater availability," Mr. Sopheap explained. Villagers are in dire need of this groundwater right now, as the worst drought in 50 years has dried out Preah Vihear's Stung Sen River.
However Ashish John, community conservation management advisor at WCS, said it is too soon to say if the factory's groundwater usage is to blame for nearby wells drying up.
"We know that the area is dry, and some of the forest wells that used to be full during a drought are dry now," he said. "But is it because of the groundwater going down or because it's an unusually dry year?"
The wells are not the only way the Rui Feng plantation could be affecting Preah Vihear's precious water supply. By clearing land for the sugarcane plantation, the plantation has decreased water retention, since land cleared to grow sugarcane absorbs much less rainfall than forest.
"The roots of the trees used to keep water in the soil...now everything has dried out," said 65-year-old Ngoun Monn, a villager who lives next to the plantation.
The workers who cleared the land for the plantation filled in many of the natural ponds, or trapeangs, that used to be available to villagers as an emergency water supply.
"The trapeangs are gone," said Ross Sinclair, director of WCS Cambodia. "And these are vitally important for wildlife and humans in terms of dry season and food security."
Faced with a record-breaking drought and deprived of some of their natural water sources, some villagers have come to see this dry spell as supernatural punishment.
"The company filled all the lakes, all the ponds, even the ponds in the sacred land," said Roeun Khann, a villager who lives near the Rui Feng plantation. "The spirits are angry and now the creeks that used to have water all year are dry."