Wall Street Journal| 19 April 2016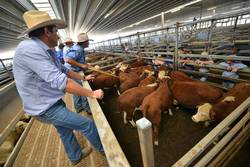 Australia cattle empire S Kidman approves sale to China-led group
by Rob Taylor
Australia's largest pastoral cattle empire, S. Kidman and Co., has agreed to be sold to a Chinese-led consortium for 370.7 million Australian dollars (US$287.3 million), continuing a flurry of deals in the country's agricultural sector.
The board of the century-old Kidman empire—which covers an area larger than Ireland—agreed to sell its holdings to China-based Dakang Australia Holdings and Australian Rural Capital Ltd. An earlier proposed deal was rejected by the government last year.
Dakang Australia is controlled by Shanghai Pengxin Group, which failed in its attempt to buy the company last year when the Australia's conservative government ruled it was against the national interest.
"We are very pleased to have reached agreement on the sale terms with the consortium as our preferred bidder," S. Kidman's Chairman John Crosby said Tuesday. "We believe the sale will secure the long-term future of the Kidman enterprise."
Like a real-life version of the cattle empire depicted in the 2008 movie "Australia," S. Kidman & Co. Ltd. controls pastoral leases that sprawl over three Australia states, an area larger than Kentucky, producing grass-fed beef for export to Japan, the U.S. and Southeast Asia.
But foreign farm takeovers have become increasingly sensitive in Australia, where nationalistic politicians have opposed deals seen to threaten food and water security at a time of rising global demand. Investment from China is especially contested, even though China is now the biggest investor in Australia's agricultural sector.
The restructured deal is still subject to approval from Australia's Foreign Investment Review Board and Treasurer Scott Morrison, who has veto power over board decisions.
Last November, Mr. Morrison blocked the sale of S. Kidman to Shanghai Pengxin for A$325 million because it was against the national interest. One of the properties—Anna Creek, the world's biggest cattle station—partly straddles the Woomera missile-testing range in South Australia.
Mr. Crosby said the restructured deal—with a higher price reflecting competition from Australian bidders—cleared requirements for foreign investment. Anna Creek has been carved off and Dakang Australia and ARC will be "good custodians of the business, he said.
Shanghai Pengxin is a private Chinese company owned by billionaire property developer Zhaobai Jiang. It first ventured into agricultural investment in 2012 with the NZ$200 million purchase of 16 dairy farms in New Zealand.
Shanghai Pengxin's president for overseas investment, Terry Lee, last month sought to douse concerns about Chinese agricultural investment, saying his company planned to rely on Australian workers and expertise.
"We like to work locally with people, we want to learn local experience and local skills, we will rely on local management, local farmers, local partners and local suppliers," Mr. Lee told Australian state television.
"We will not bring a lot of Chinese employees to New Zealand and Australia, it is very important to use the local experience and skill-sets to make a successful agriculture business," he said.
Write to Rob Taylor at [email protected]